Strava: A guide for charities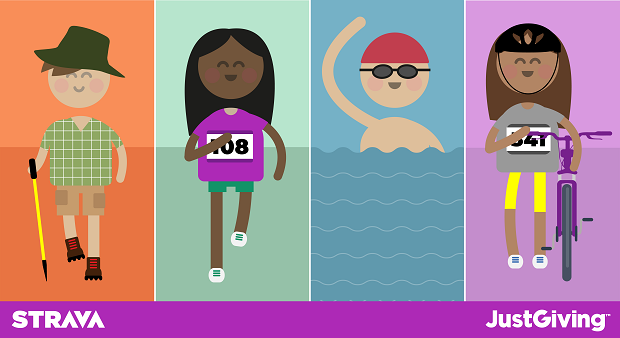 We recently launched a brand-new integration with Strava – a fitness app which is particularly well known by cyclists and runners. As much as we'd love for you to take our word that the integration will offer lots of great benefits for your charity and fundraisers alike, we know virtual fundraising and fitness tracking is a brave new world for many in the sector.
So, we've decided to break down exactly what Strava is, the benefits of encouraging your fundraisers to embrace it, and how it can help you to create new and interesting virtual events. Plus, we're going to share examples of how some charities are already using it. So, without further ado, let's walk, run and jump in!
What is Strava?
Whether you're a fitness fanatic or braving your very first run, Strava has all the essentials that you need for training. It's free to create an account and users can choose to log in online or to download the android/iPhone app. Its key features include:
Create and track routes
Measure and analyse performance by looking at times, speeds and distances
Easily connect to compatible fitness devices, allowing users to create a full picture of their activity. This includes fitness watches and cycling GPS trackers like Fitbit, TomTom, Soleus and Garmin
Creating teams or clubs (which is great because here at JustGiving we love Team Fundraising)
Easy to share updates and connect with other people
For those who wish to upgrade and pay for a subscription, Strava provides access to running training plans. This is a useful resources for those frequent fundraisers who are looking to take on the next tier of challenge, like an ultra marathon
Strava also has a dedicated Challenges page which shares upcoming partner events, monthly run and ride challenges, plus virtual races. It's a great page to share with supporters who may need some fundraising inspiration as Strava pre-sets challenge distances and time frames, so all people have to do is sign up to their chosen challenge, create a Fundraising Page and then link it to their Strava account.
How do Strava and JustGiving link together?
The integration means that your supporters can connect their Fundraising Pages to Strava and all it takes is three simple steps.
Step one: Your fundraiser needs to create their Strava account.
Step two: Your fundraiser should then login to their JustGiving account and view the Fundraising Page that they want to connect with. If they then scroll slightly down the Fundraising Page they'll see a big 'Connect Strava' button which they should select.

Step three: Get moving! As soon as your fundraiser has clicked the 'Connect Strava' button and entered their details, they can use their Strava as normal to track their activities and choose which updates to share on their Fundraising Page or socials.
What are the benefits of encouraging fundraisers to use Strava?
It's always nice to give fundraisers something a little extra to use and add on to their pages, but fitness tracking also offers real value. We could easily write pages and pages of the benefits, in fact our colleagues at Blackbaud have in their free e-book 'How to leverage fitness apps'. However, we thought we'd keep it short and sweet by dividing the positives into two categories: using fitness tracking when training and using fitness apps for virtual events.
1. Benefits of encouraging fundraisers to use fitness tracking
Your supporters will raise more money
We're going to start with the fact that fundraisers who track their activity on a fitness app and share the updates raise up to 40% more! * Pause for dramatic effect * Sharing is a powerful tool when it comes to fundraising, and the integration with Strava means that people don't even have to think of witty or unique captions, they just need to click share and the hard work is done for them.
You'll open up your cause to more people
Creating a fundraising experience, such as a virtual event, means that more people can potentially take part as they're not necessarily tied to taking part on a specific date or location like a real-world event. Training to run a marathon (furry mascot costume optional) isn't an everyday activity for most people. However, as we've seen with The 2.6 Challenge, you can get lots of people taking part in a campaign with a little creativity. And with Strava having over 50 million users worldwide, it's a popular, well-known tool that people are comfortable using.
You'll have new ways to engage with your supporters
Last, and by no means least, fitness apps will help you to get to know your fundraisers better. On Strava you can create something known as a club, which enables your supporters to feel part of a community. Here's one created by the Target Ovarian Cancer. You can share content and comment on your supporters' training updates, which gives you a new way to connect and steward your supporters outside of your usual email comms.

2. Using fitness apps for virtual events
Virtual events bring people together in an online community, tallying their physical efforts (for example, running, steps or laps) to an online fundraising page. Virtual events have seen an increasing rise in popularity over the past few years and at times of limited resources or abilities, they offer a desirable approach to organising a fundraising event.
Fitness trackers help to keep fundraisers accountable and treat the challenge with the same determination as an in-person sporting event, especially if they have push notifications enabled on the app
Strava can track every step, meter, level of ascent so your charity can set specific challenges and goals as you would for a traditional mass participation event
Adding a professional look and feel to a charity event without require additional budget. Strava is a well-known and respected brand, with over a million new users worldwide each month, so telling supporters that they can use it for your events helps to boost the prestige of your virtual event
Examples of charity virtual events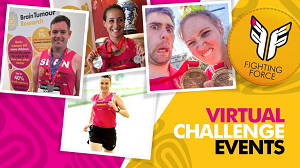 The charity Brain Tumour Research has added a dedicated page to their website encouraging people to become part of their Virtual Challenge Event community! They've created a club on Strava called #FightingForce and a Campaign Page on JustGiving to bring together all the fundraising activity.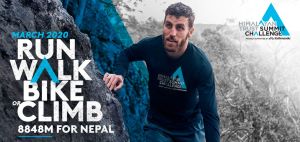 Their Summit Challenge was the first major online fundraising campaign, asking participants to climb, walk or ride 8848m (the height of Mount Everest). They decided to exclusively ask fundraisers to use Strava in their challenge, with the end result being an 14.97% increase on their fundraising target.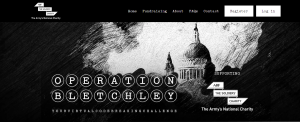 Held for the first time in 2019, Operation Bletchley asked supporters to walk or run 50 miles using a fitness tracker to update their progress. They would then be given cryptic clues at different milestones which they would need to answer.
If you'd like to create a similar microsite for your virtual event, we can help. Together with our colleagues at Blackbaud, we've put together a few different virtual events packages and options for charities.

The 2.6 Challenge raised over £10 million for charities and is a fantastic example of a campaign that enabled people to incorporate fitness tracking into their fundraising. Anyone could take part – they just had to make their activity incorporate the numbers 2 and 6!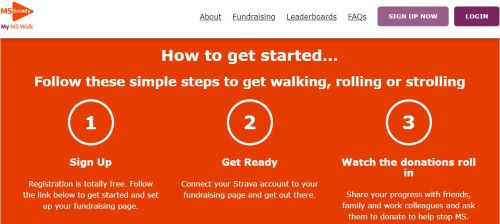 The MS Society partnered with our Digital Services Team to create a dedicated microsite for their Fundraising Campaign, My MS Walk. The concept is simple: sign up and create a Fundraising Page, link a Strava account to JustGiving, start collecting donations! To help encourage fundraisers, the MS Society offers incentives for hitting different donation milestones, including a medal once someone's hit the £100 donation mark.

Sense organised the Sense 100 challenge, asking people to cycle 100 miles within 16 days. In order to keep track of their progress riders were asked to connect their Fundraising Pages to Strava or manually add their miles to the Sense 100 microsite. Sense encouraged friendly competition by using leaderboards to show both the top fundraisers and the top cyclists. In just four days the challenge had already raised over £3,500.
How to help your fundraisers get started with Strava
Your fundraisers are more likely to add Strava into their funrdaising journey if you make getting started as quick and simple as possible.
Practical tips on using Strava to raise more
We've recorded a free, on-demand webinar exploring how charities can make the most of using the Strava and JustGiving integration. It includes practical tips on how you can use it to enhance your fundraiser's experiences, increase overall donations, and set up your own virtual event. You can watch our virtual fundraising webinar here. 
We originally posted this blog as 'How Strava can help enhance your supporter experience' in May 2020. We've now added lots of additional tips and pieces of information, turning the blog into a more detailed charity guide. 
Get inspiration in your inbox!
Don't miss out on digital fundraising tips, tools and trends.
Toni Gregory is a Content Marketing Specialist and B2B copywriter.