3 ways to get supporters to run the London Marathon for your organisation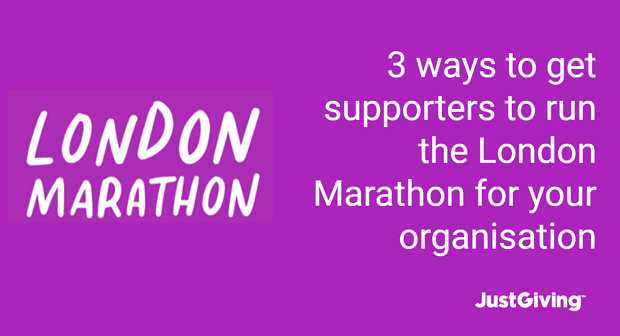 The London Marathon is one of the most famous marathons on the entire planet. How could it ever not be? Runners are treated to some of the capitals most stunning sights, including Tower Bridge and Buckingham Palace. Spaces are coveted, and anyone who wants to run must put their name in a ballot to be in with even a hope of taking part. Many are left disappointed.
Thousands of people run the London Marathon on behalf of charities each year, safe in the knowledge that their spot is secured, and that they're changing lives with the money they fundraise.
But lots of charities are worried about purchasing London Marathon spots for their supporters. What if you can't get people to take them? How do you even go about doing it?
Here are our top tips for advertising your London Marathon spaces to your supporters.
Tell them in advance that you're going to get them
There's a reason the London Marathon organisers open the ballot for the following year on the day of the race; it's because people are inspired by what they've seen, and encouraged to sign up because of it. If you're going to have charity spaces for the following year, it's worth telling people on or around race day.
Put it on your social media, send it out in your email list and put it on your website. If you can start collecting expressions of interest now, it will make filling spaces much easier when the time comes.
Set realistic fundraising targets
London Marathon spaces are not cheap, even for charities. It can be tempting to try to claw a massive profit from your spots, but fundraising is difficult, and setting your fundraising targets too high for potential runners will scare them away.
Remember, there are tonnes of other equally good causes out there, and lots of them are advertising marathon spaces, too. Be competitive, and remember that it isn't all about the money. When people participate in high profile events like this and they're wearing your branding, it's great for raising awareness around your organisation and your cause.
Make sure your supporters know that they won't be on their own
You should be taking good care of anyone who offers to run a marathon for you. It's the greatest challenge most human beings will ever undertake. If they're doing it right, they'll be putting in months of work on your behalf. A large part of the training they endure will take place across the winter months. Whilst everyone else is curled blissfully in front of a fire, they'll be dragging themselves up and out to run for several hours, multiple times a week.
It's only right that you'll be giving them support. You should be helping them the whole way through. Spoil them with lovely t-shirts and other branded gifts, take them all out for dinner, arrange a massage at the end of the race, and then shout out in advance about how incredibly supportive you are of those who takes one of your charity marathon spaces. Anyone considering filling one of your spots will be comforted by your backing.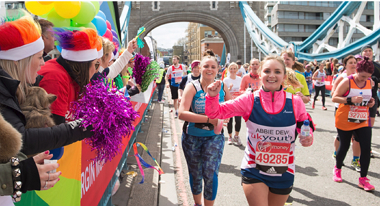 Get inspiration in your inbox!
Don't miss out on digital fundraising tips, tools and trends.