Talking charity with Ricky Gervais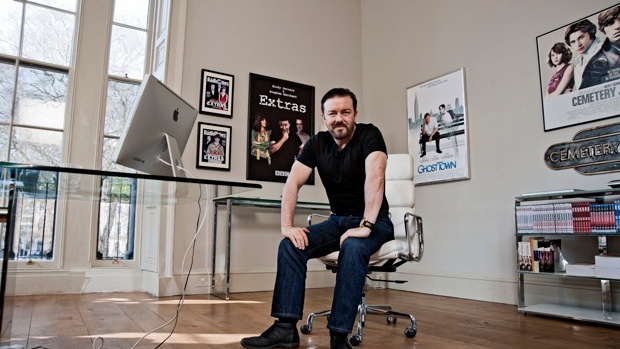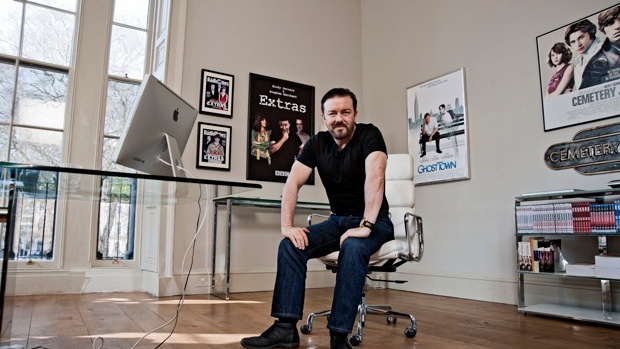 Ricky Gervais achieved mainstream fame as creator and star of The Office and Extras, the only British comedies ever to have won Golden Globe® Awards. But while the comedy maestro is busy getting ready to revive his role as David Brent for two live shows this month, as a renowned animal lover he still finds time to support the charities close to his heart. We caught up with Ricky for a chat about his work.
What do you think is the best way for a charity to get celebrity support on a campaign?
Well, apart from it being a great cause that touches your heart, I'd say a good idea is to make it easy. Very often you can want to support something but simply don't have the time or can't even be in the country when a particular event is on. So providing quotes, tweets, and just simply lending your name and then shouting about it can help charities an awful lot.
You featured a charity that provides animal therapy to care home residents in your latest show Derek. Does charity work inspire you creatively?
Everything in life affects your creativity. Obviously personal experiences have the most profound effect. So charities that have a personal connection really resonate. Animal charities are very close to my heart and Derek is influenced by the fact that most of my family are carers. So I sort of combined the two. It was also an excuse for me to play with dogs for a day. Haha.
Why do you think comedy is so often associated with charitable work or events and is so effective at raising money, like Comic Relief for example?
For many reasons really. I think comedians are an outspoken bunch and we are free to say what we want to a certain extent. We also jump at any chance to get up on stage and shout about something. If this can actually be used to help great causes, then the more the better.
What was the most memorable charity event you've ever attended and what made it special?
Probably one of the Help for Hero events I support in New York. It's for wounded soldiers, which is always incredibly moving and humbling. Also, I'm usually on the bill with Bruce Springsteen which can't be bad, right?
How do you think the growth of social media has benefited charities?
It's been fantastic. It's easy to show support and that support can spread like wildfire.
You're an avid user of Twitter with more than 5 million followers. How do you use it to help the causes you're passionate about?
I probably do no more than anyone else on Twitter, but I can get my message to an awful lot of people at once. And if you're passionate about something that has touched your heart, chances are it will touch many other people's hearts in the same way.
You're JustGiving's most influential celebrity on Twitter in terms of encouraging people to share JustGiving pages, just ahead of Alan Carr and Peter Andre. How does that make you feel?
I'm counting that as another award. This makes up for the time that Peter and Alan beat me into third place in Rear of The Year.
Ricky is a long time supporter of The Mayhew Animal Home, one of the busiest animal sanctuaries in London, finding safe and loving homes for thousands of dogs, cats, rabbits and guinea pigs each year. The Mayhew focuses heavily on the prevention of cruelty and neglect and runs highly successful neutering, educational, fostering, volunteering, community and international projects.
Get inspiration in your inbox!
Don't miss out on digital fundraising tips, tools and trends.
Ros is JustGiving's communications specialist and has spent the last seven years helping consumer technology brands and not-for-profit organisations reach new audiences. She looks after media strategy, and is responsible for sharing the stories of JustGiving's amazing users with the world.