The 2.6 Challenge: A guide for charities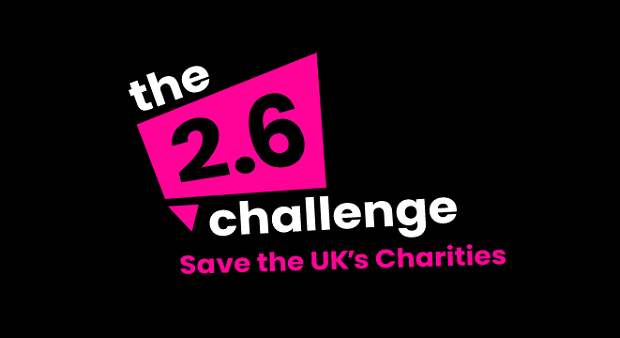 The top 25 mass participation sports events in the UK raise more than £150 million for charities every year, and with fundraising events up and down the country delayed or postponed due to COVID-19, we know charities are facing uncertainty. We want to help.
So, we've been working with the organisers of the UK's biggest mass participation events, who have come together to create The 2.6 Challenge, a nationwide fundraising campaign to raise vital funds to help save the UK's charities.
But how does it work and how can your charity take part to boost your income?
What is The 2.6 Challenge?
The 2.6 Challenge will launch on Sunday 26 April. This should have been the date of the London Marathon, but like many other fundraising events it has been postponed to later in the year due to Coronavirus. In response, we are working with mass participation event organisers to encourage people to take part in The 2.6 Challenge on that date instead!
All that people need to do is think of an activity that suits their skills based around the number 2.6 or 26. The campaign is open to anyone of any age – the only requirement is that the activity must follow the Government guidelines on exercise and social distancing. They can choose to fundraise and ask for donations from family and friends, or donate directly to the campaign themselves.
How your charity can get involved
If your charity is registered on JustGiving, your organisation is ready and able to take part in The 2.6 Challenge as part of your JustGiving membership! Your supporters can fundraise for/donate to your cause via our dedicated campaign microsite for The 2.6 Challenge or on www.justgiving.com.
In addition, people can support your cause via Virgin Money Giving or make a donation on the official campaign website created by the challenge organisers (twopointsixchallenge.co.uk). Donations made via this website will be held in a fund administered by Charities Aid Foundation (CAF). Once the challenge has finished, CAF will distribute donations based on the ratio of money raised by each participating charity through the combined total on JustGiving and Virgin Money Giving.
Not yet registered on JustGiving? It's free and simple to join on our Start membership plan.
Promote the challenge to your supporters in four simple steps
Get your personalised campaign link from JustGiving (we've emailed it to you, but contact charities@justgiving.com if you haven't received it)
Add it to your website and emails
Post it on your organisation's Twitter, facebook and Instagram accounts
Encourage them to share their activities on social media using the hashtag #TwoPointSixChallenge
Free marketing materials
We've created a simple resources page for charities where you can download everything you need to promote the campaign to your supporters. It includes useful marketing materials, such as banners, images and videos you can use on your website and social media.
Inspiring examples of '2.6 or 26' activities for your supporters
Here's some examples of the fundraising activities we're already seeing people do on JustGiving for The 2.6 Challenge:
See more people fundraising for The 2.6 Challenge
And here's a few other ideas you can use to inspire your supporters:
Draw 26 rainbows
Do 26 football keepie-uppies in a row
Run 26 laps of your garden dressed in fancy dress
Build the biggest lego tower in 2.6 minutes
Challenge the kids to be silent for 2.6 days, 26 minutes or 2.6 minutes (depending on their age)
Who can put on 26 items of clothing the fastest?
Run, walk or cycle for 26 minutes and track it on Strava
Here's a page of inspiring activities you can share with your supporters to help them get started.
Examples of how other charities are promoting The 2.6 Challenge
On their websites:
On social media:
Alzheimers Research UK
https://twitter.com/AlzResearchUK/status/1251951449275236354
Headway
The Covid-19 pandemic means many charities, including Headway, are struggling to maintain their vital services. Join us in the 2.6 Challenge and raise funds or donate to Headway in our time of need. Learn more here: https://t.co/8ZJVrAv9Qf#TwoPointSixChallenge pic.twitter.com/2jbZ65GFBL

— Headway – the brain injury association (@HeadwayUK) April 19, 2020
Need any help?
We're here to support you to help you raise as much as possible from this campaign – check out our online FAQs for The 2.6 Challenge. Or you can email us on charities@justgiving.com
Get inspiration in your inbox!
Don't miss out on digital fundraising tips, tools and trends.
Sally Falvey has worked in online fundraising for over 10 years, and is the Head of B2B Marketing at JustGiving. She's passionate about helping all charities use the latest technology to be more efficient and raise more money.