The best online tools to boost charity digital skills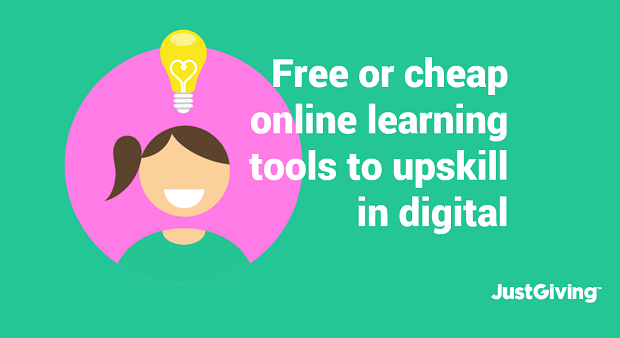 75% of charities think growing their digital skills would help them increase fundraising, according to the Charity Digital Skills Report.
Many charities encourage staff to own their learning, but training budgets are often small. So it can be difficult or even impossible for average charity folk to know where to start with their digital skills development.
But here's the good news: there are lots of cost-effective (sometimes even free) online learning platforms out there that can help.
From digital marketing to coding, there is something out there for you.
Here are some of the best online digital skills development opportunities for busy charity people:
1. Google's Digital Garage
This free online training from Google will take you through you the fundamentals of digital marketing.
It breaks learning down into bitesize chunks and you learn at your own pace through a series of videos and quizzes.
You set your own learning goals and choose lessons from a range of topics. From the fundamentals of online marketing through to analytics, search marketing, social media and email. It also covers topics like video and mobile.
It may seem gimmicky to some, but one of my favourite things about Digital Garage is that you get to earn 'badges' along the way, giving you a great sense of achievement.
Perfect for: those who are completely new to digital and want to understand more about the opportunities it offers.
Sign up for free and get learning now!
2. Facebook Blueprint eLearning
Facebook's online learning platform is free and covers everything from the history of marketing on Facebook, right through to advanced ad buying.
You can choose the topics you're interested in or follow one of Facebook's pre-curated 'learning paths'.
The focus is on bitesize chunks and learning at your own pace. Each topic is broken down into manageable pieces and shows a handy estimated time for each.
Perfect for: fundraising and marketing teams who are looking to know more about how Facebook can work for their charity. Equally, if you're already advertising on Facebook, this will help you get to grips with more advanced features.
3. General Assembly – Dash coding course
If you're feeling a bit techie, Dash is a free online coding course covering the basics of HTML, CSS and Javascript.
Perfect for: if you're already working in a digital team and want some basic technical knowledge for solving those annoying little email and website issues. Or maybe you just want to code your own website for fun!
General Assembly also offers paid courses and workshops across a vast range of topics, from Excel skills to User Experience Design. Check it out.
4. FutureLearn
FutureLearn is an online learning platform featuring courses from leading universities and cultural institutions around the world.
All courses are free, and most offer to option to upgrade for a small fee. This gives you access to additional features like course assessments and certificates.
Unlike Facebook Blueprint and Digital Garage, FutureLearn courses run for a fixed period of time and are divided into weeks. There's also a social element, allowing you to connect and interact with fellow learners.
FutureLearn offers online courses in many disciplines, but the Business & Management and Tech & Coding categories will be most relevant for charity digital skills.
Perfect for: those who want more in-depth learning about a particular topic, and who have some time for slightly more structured learning.
What are you waiting for?
These online learning platforms focus on affordable, flexible learning. They're all perfect for busy charity people who want kick-start their digital skills development.
Lessons are short enough to fit into your lunchbreak or your commute home, and most will work on mobile devices so you can learn on the go.
Get started today and see how far your new digital skills can take you and your charity.
Get inspiration in your inbox!
Don't miss out on digital fundraising tips, tools and trends.