The Manchester Dogs Home fire appeal – in numbers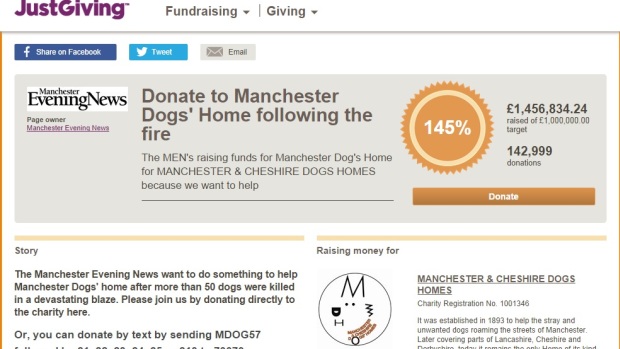 There has been an amazing response to the sad news about the Manchester and Cheshire Dogs' Home fire. Within 24 hours since the news of the fire, over £1 million was raised to help the dogs and rebuild the home, and the support is still coming in. Elisabeth Kessick, head of insight at JustGiving, shares the numbers.
• Since the 12th of September, the Manchester and Cheshire Dogs' Home has raised over £2.1 million in donations via JustGiving.
• The most popular fundraising appeal page is the page set up by the Manchester Evening News. This page alone has raised over £1.4 million.
• The average donation to the charity during this time has been £11.22 – nearly enough to feed a dog for a month.
• The Manchester and Cheshire Dogs' Home now has the most number of Cares on JustGiving: people really love this cause and want to show their support.

• People from the North West of England really rallied around this local cause and are responsible for nearly a third of all donations.
• But people all over the world responded as well, with donations from 47 different countries other than the UK.
• Sharing was key: 35% of people who viewed a Manchester Dogs' Home appeal page shared to Facebook, and 8% tweeted on Twitter.
• On Friday 12th September we took an average of 4 donations per second between 8 and 11 am: people responded to this appeal quickly!
Get inspiration in your inbox!
Don't miss out on digital fundraising tips, tools and trends.
Elizabeth helped transform JustGiving from a tiny start-up in 2001 into becoming the world's largest online fundraising community. As head of insight she's responsible for understanding the behaviour and needs of JustGiving's 13 million + users.