The rise of the Chief Supporter Officer, and what it means for fundraising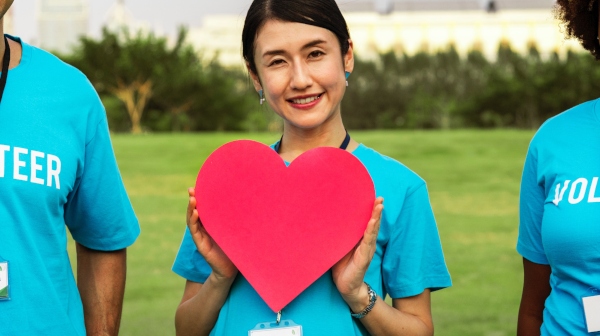 You might have noticed, but there's been a quiet revolution in the charity sector. Over the last few years, new job titles have been cropping up all over the industry – Chief Supporter Officer, Director of Supporter Led Fundraising. They're replacing or are being created alongside more traditional roles like fundraising, development, or sometimes even communications directorships.
They have one thing in common – they're reflecting and reframing the new values that are shaping our work, and our plans for the future. As the fundraising landscape changes, so too does the way that we do our work.
Our historical focus on conventional, technique-driven fundraising is becoming increasingly outpaced in a sector where your relationship with supporters is becoming key to your charity's success. Our supporters are human, after all, as complex as any other: they're not just sources of income or influence, and we shouldn't treat them as such. They're survivors, humanitarians, community members, family members, or friends with unique desires and motivations. We need to be mindful of their wealth of experiences when we interact with them.
Why supporter engagement?
Traditional charities with long-embedded teams can often face strategic and operational barriers caused by team silos. We've all been there: you've got room for two email blasts in this week's schedule, and with four or five teams jostling for space on communications channels. So how do you decide what communications are sent to your supporters? What do you ask them to do (if you ask them to do anything at all)? Where do you ask them to do it?
You have teams who are responsible for different parts of the supporter journey: the fundraising asks, the activism, the challenge participation, and each team has its own goals and KPIs. But who's in charge of the whole end to end journey? Your supporters are committed and dedicated – they deserve nothing less than to have a team dedicated to their experience, and you can't prioritise their experience in a full-service, holistic way unless your team structure reflects it.
Supporter engagement functions help to bridge the gaps between fundraising and marketing communications teams. Strengthening or replacing the traditional model with a supporter-engagement approach reframes the conversation, and places the most important person – your supporter – in the center of all your decision-making processes.
Paul Amadi, British Red Cross
After a lifetime of 'fundraising' and related income generation titles, Paul Amadi took on a role in 2018 as the Chief Supporter Officer at the British Red Cross. The role replaced the previous 'Director of Fundraising' title, occupied by Mark Astarita for the previous 14 years. It reflects the recognition that supporters are key to the organisation's success, and aims to find new ways to engage and excite them about the cause.
In an interview with Beth Crackles, Paul discusses the charity sector's slowness to catch up to shifting fundraising paradigms, which call for a more integrated and accessible supporter experience. Our historical model for engaging supporters is outdated, and change needs to happen. But there are associated uncertainties: moving towards a supporter-led approach also comes with apprehensions around measurement, effectiveness and the implementation of new technology, and charities in particular are ill-equipped to make these changes. Charities, who are traditionally risk averse, focused on proof-of-concept, and resource-limited, are hesitant to set sail on to these sorts of uncharted waters.
The world is moving too quickly for charities to get complacent, however: in a Civil Society talk this year, Paul reiterated that changing consumer expectations about accessibility and ease of use means that charities who don't adopt a supporter led model run the risk of falling behind the pack.
Joe Jenkins, Director of Supporter Impact & Income
Joe Jenkins, the Director of Supporter Impact and Income at the Children's Society, similarly argues that the sector is going through a period of disruption (and will continue to for the foreseeable future), and charities need to adapt.
In a piece written for the Third Sector, Joe argues that no area is this more apparent than in fundraising, which should no longer be held in silos independent of other branches of the organisation – especially when fundraising and communications are threaded through the functions of every other department. Our traditional product-led fundraising approach is so focused on profitability and margins, argues Joe, that it's hard to make the shift to supporter-engagement – but we need to start placing value on supporters' time and opinions as well as their capacity to fundraise, even if it means ascribing metrics to engagement value.
According to Joe, the shift towards relationship building and supporter experience is inevitable. In a world where relationship building is king, charities should be prepared to build around supporter rather than function.
Lucy Squance, Director of Supporter Led Fundraising at Alzheimer's Research UK
Lucy Squance is the Director of Supporter Led Fundraising at Alzheimer's Research UK. This was a job title that she pushed for with the belief that it better summarised what the job involved and the principles behind it, and since 2016, she's been building a department that allows ARUK supporters to fundraise through their own talent and capacity.
Lucy and ARUK's push for supporter engagement through gaming is emblematic of the kinds of things organisations can achieve by listening to their supporters and placing them at the center of their strategy. ARUK's shift towards this model of supporter engagement has opened up opportunities not just for fundraising, but for supporters to also participate in research while doing that they love.
We spoke to Lucy a few weeks ago to find out more about how ARUK's focus on supporter engagement has opened up gaming as a new channel for engagement – check it out here.
Kath Abrahams, Diabetes UK, director of engagement and fundraising
Kath Abrahams is the Director of Engagement and Fundraising at Diabetes UK, a role which oversees both fundraising and communication functions of the organisation. She says that developing close relationships with supporters is key to success – and our propensity to use technical terms like 'mass acquisition' alienates them by making them feel like they are just numbers.
We need to dial relationships back to the core reasons why someone would support a charity: reminding them of their values and the impact that their support has on the charity is the foundation to any strong fundraising ask.
In an interview with Charity People, Kath said, "Everybody we're dealing with, however they support us, are all individual human beings. We absolutely have a responsibility to make sure their experience is one that feels congruent and relevant." We totally agree!
Has your organisation shifted to a supporter-led model? Let us know in the comments.
Get inspiration in your inbox!
Don't miss out on digital fundraising tips, tools and trends.