The rise of WhatsApp (and some other cool sharing stats)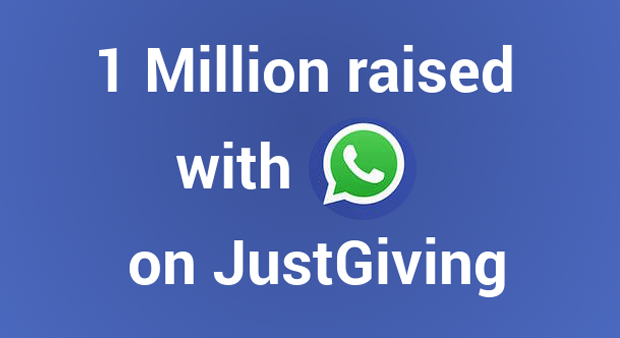 Recently, Mark Zuckerberg announced that WhatsApp has passed the massive milestone of one billion users. That's impressive, and the growth in usage is something we've been following with great interest. Since we first enabled fundraisers to share to WhatsApp in April last year, we've seen huge growth in sharing to WhatsApp and we've enabled sharing in more and more areas of the site. So we thought it would be a good time to share some data about, well, sharing.

Fundraisers raised £975,000 from WhatsApp sharing last year. Not bad since it only launched in April and only on the app, but tantalisingly close to a million. Oh well.
Still, with almost £200,000 raised via WhatsApp in January, we've now seen over £1 million donated via WhatsApp.
Almost £4 million was donated via Twitter last year, an increase of a third. So WhatsApp still has some way to go, but…
In January 2015, more mobile users shared to WhatsApp than Twitter. And WhatsApp sharing was second only to Facebook.
Having said that, Facebook still dominates: 46% of all traffic was from Facebook, generating well over £100 million last year.
Of the 50 million clicks on JustGiving content on Facebook, 70% were from women. 
Of the Facebook traffic, 80% was mobile. (and 60% of all visits were on mobile.)
There were nearly 4 million shares (that we tracked) on JustGiving last year. A third were from page owners. But most were from supporters, either on a Fundraising or Crowdfunding Page or after making a donation.
Almost 40% more donors shared on mobile compared to desktop, and for the first time ever, these mobile shares generated more donations than desktop.
Donations made from the links people shared after donating on mobile tripled last year, from £700k to £2.2 million.
We proved that running A/B tests around wording and button size makes a big difference to sharing. One test alone generated somewhere in the region of £2.5 million in extra donations. Win!
Do we have a prediction for how these numbers will change in 2016? Well, just over a month in and we can already see that sharing is continuing to grow. We have a bunch of tests in the pipeline for encouraging people to share even more regularly, and we expect WhatsApp to continue to grow in popularity, perhaps even replacing Twitter as the second most important channel on mobile. Watch this space!
Get inspiration in your inbox!
Don't miss out on digital fundraising tips, tools and trends.
Jonathan is the social and labs product manager at JustGiving, specialising in social media integration, digital strategy and online fundraising. He's fascinated by how the social web has revolutionised the way people interact with each other and how charities can use the internet to create enormous value for them and their supporters.