The secrets to Nationwide and Macmillan's 21 year partnership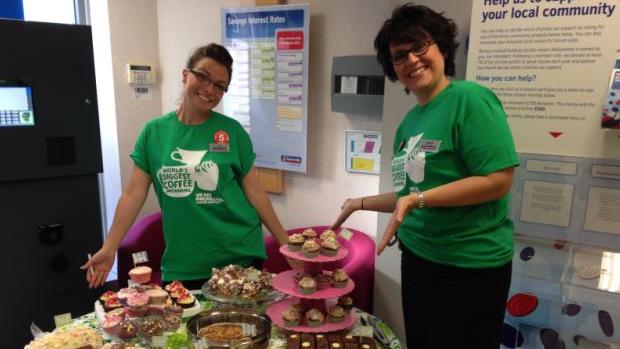 Ella Brock-Smith from Nationwide Building Society shares why, 21 years on and an incredible fundraising total of £6.8 million, their relationship with Macmillan Cancer Support is going from strength to strength and how you can do the same with your corporate partners.
Over the years, our employees have helped fund two Cancer Information Centres, Welfare Benefits Advisers in five regions of the UK and more recently, funding for the Macmillan Support Line and the provision of grants to help people living with cancer with mortgage and rental payments. These all help Macmillan ensure no one faces cancer alone.
The partnership has lasted the test of time for a number of reasons; not only because many of our employees and customers will at some point be directly or indirectly touched by cancer, but for us it isn't just about fundraising. We both have a joint ambition to provide financial support to people affected by cancer by keeping them in their own homes. This is key to our five year citizenship strategy 'Living on Your Side' which has ambitious targets of helping 750,000 people into a home of their own, investing and unlocking £15 million into local communities and empowering one million people to start saving.
Here are our top tips to help you make the most of your corporate partnership:
1. Know your partner's strategy, ensure your goals are aligned and share common ground.
The physical and emotional impact of cancer is hard enough to deal with without the additional burden of financial worries. As a result we worked with Macmillan to develop a strategy for us to fund grants for rent and mortgages, and to fund the Macmillan Support Line to assist with calls from people with housing worries.
A dedicated Macmillan Partnership Manager also works closely with our Services Team to gain insight into calls concerning housing support and financial grants for mortgage and rental arrears. We're really pleased with how this initiative is working as so far we've helped 252 people who are living with cancer to stay in their own home.
2. Ensure your senior management team are fully behind the partnership.
Our chief executive has personally championed a highly successful penny sweep scheme – Every Penny Helps – which has been particularly successful. It's a payroll giving scheme that's been developed so that every month our employees can choose to donate the pence from their net pay to an elected charity. This year, 4,400 employees signed up and raised over £25,000 for Macmillan.
3. Get your employees on board by providing clear and concise communications that are adapted for each area of your business.
Since its origins in the early nineties, Macmillan's World's Biggest Coffee Morning is a really simple and effective way for our 700 plus branches to get involved and do something that benefits their local communities. Being situated in so many different locations across the UK, it's often hard for us to find events that our branches can get involved in without impacting on their day-to-day business and on customers who just want to come in and pay in a cheque. Macmillan also makes it easy for us as they have a host of materials that can be downloaded from their website, such as posters, bunting, recipes, etc. They also help us put together bespoke materials as and when required – for example, this year our branches will be displaying posters showing support for the Coffee Morning.
Each year, the Coffee Morning gets bigger and better and our colleagues across the business compete against each other to offer the best goodies and raise the most money. Last year we managed to raise over £138,000 in September alone and this year we want to raise even more!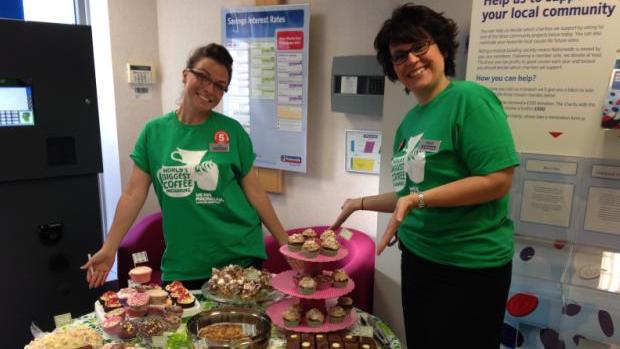 4. Put reporting parameters in place to demonstrate the impact of your time and investment.
Our citizenship programme is owned by all our employees so we've spent a considerable amount of time improving and simplifying our reporting process so we can see exactly how many of our employees are participating in our citizenship activities, how much fundraising they're undertaking and how much volunteering they're doing. This can be broken down by divisions, departments and teams so they can review their progress.
We use a number of reporting parameters, including our JustGiving company profile, where we can see how much has been raised for charity by our members and employees, employee activity and volunteering hours, for example. Using these, we can see that in the last financial year, 56% of our employees got involved in citizenship in some shape or form – a figure we're really proud of.
So what's next?
Due to the impact of the work that we've done with Macmillan to help people living with cancer stay in their own homes, we're now looking to fund further research into the longer term impacts of a cancer diagnosis.
We're both determined to continue to work together to identify lasting solutions to ease the financial worries of people living with cancer. Combined with the fact that we have 17,000 employees and 15 million members and customers who can help us work together, we can all really make a difference.
Here's to the next 21 years!
Do you have a successful corporate partnership? Share your tips in the comments.
Get inspiration in your inbox!
Don't miss out on digital fundraising tips, tools and trends.
I'm part of Nationwide's Citizenship team, responsible for Employee Engagement across the society. I joined the team in August 2012, and during that time we've seen employee involvement in Citizenship grow from just 6% to 56%. It's great to be part of an organisation which places so much value on 'doing the right thing' for the communities it serves, and this ethos has really inspired our employees to get involved as well.