Third Sector's Fundraising Week is here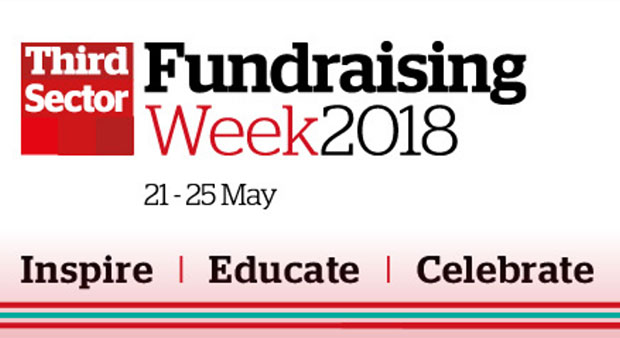 The annual Third Sector Fundraising Week is upon us, and we want to look at some of the key things you can look forward to at Tuesday and Wednesday's Fundraising Conference.
This year, the key themes of the conference include the G-word (GDPR, of course), changes in giving trends, social media strategies and supporter journeys, how to use video to raise funds, and how corporate CSR models are changing. Basically, you can expect a full range of inspiring and enlightening discussions, along with some great opportunities to meet and network with others in the sector.
There's a plethora of amazing speakers during the two-day event. Here are just a few of the presentations that we are excited about seeing:
Tuesday, May 22
Selling a small or difficult cause – 10:20am
JustGiving blog contributor Mandy Johnson from the Small Charities Coalition joins Morgan Phillips of the Glacier Trust to explain how small or difficult to sell causes can effectively tell their story to boost fundraising.
How corporates view CSR – 3:40pm
The CSR model changes rapidly, a lot has changed in five years and what will it look like in five years' time? This panel discussion with representatives from Asda, JPA Furniture, and LBG will provide insight that can help you sculpt your CSR policy for the future.
Consent vs Legitimate Interest – latest thinking and practical approaches – 3:40pm
We've all been busy sorting out our GDPR ready for Friday. This session by Charles Bagnall of Advanced NFP aims to identify the risks of using consent or legitimate interest for your communications and will provide tips to help you optimise your preferences to make the best of the post-GDPR world.
Wednesday, May 23rd
Keynote presentation – 9:40am
We'd be amiss if we were to leave out our Managing Director Neil Bannister's keynote presentation. Joined by Richard Hawkes of the British Asian Trust, he will be talking about how this is a time of great challenge for charities, but also of great opportunity.
Storytelling – 10:50am
Telling an effective story without making a direct ask can be a brilliant way of engaging potential supporters with the work you are doing. This session with Richard Davison of Anthony Nolan will discuss the ways you can do just that.
Fundamentals of crowdfunding – 2:10pm
JustGiving's Evey Costigan talks about how your charity can harness the power of the crowd for your next campaign. The workshop will include practical ways to identify campaigns that will utilise a crowdfunding model and will hopefully inspire you to get to grips with the opportunities that crowdfunding present.
We're really excited about this Fundraising Week Conference, and the above is just a small selection of the inspiring presentations that will be on offer. Take a look at the full conference agenda on the Fundraising Week website to choose what you will be attending. We look forward to seeing lots of you there!
Get inspiration in your inbox!
Don't miss out on digital fundraising tips, tools and trends.