Tips for virtual event success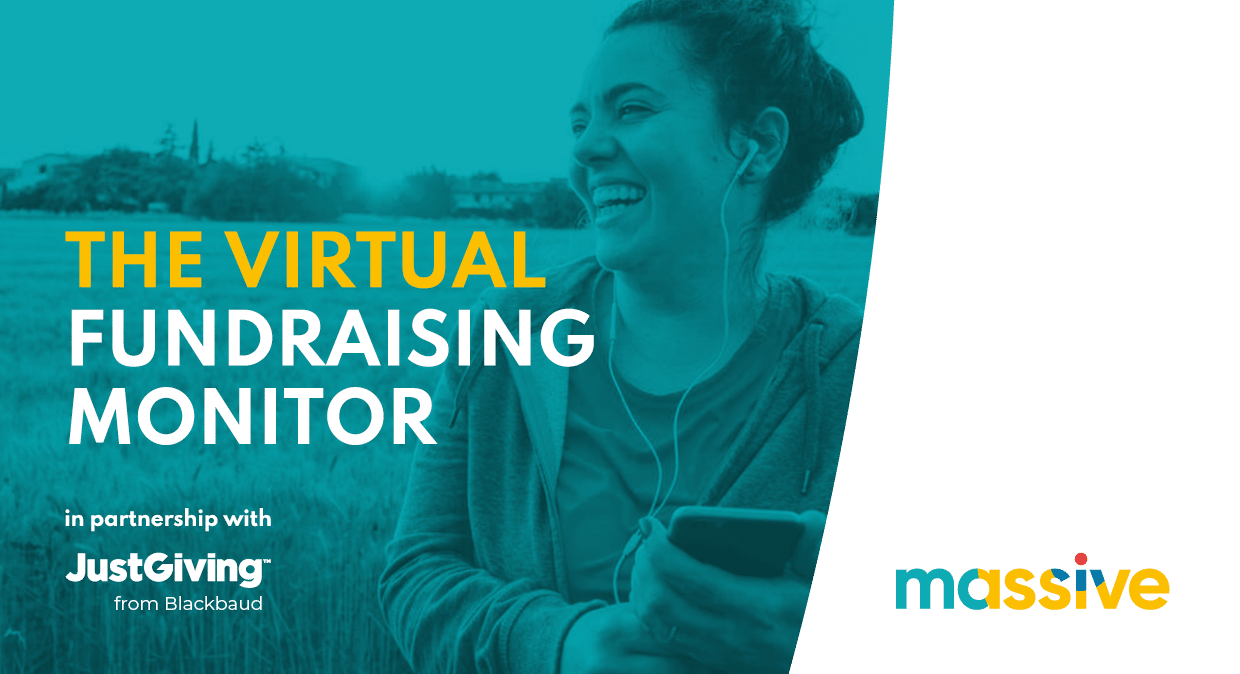 The fundraising landscape has completely changed this year in response to COVID-19, and now more than ever we need to bring together our communities virtually and embrace new ways to raise money online. As is often the way during challenging times, we have seen AMAZING examples of innovation and creativity from charities on JustGiving who have been forced to pivot their real-world events into a virtual setting.
But when we strip things back, are virtual events all that different to real-word events? Do they require a whole new way of thinking?
Pivoting to virtual events
Last year, with our friends at More Strategic, we started looking at the common attributes of charities who were managing to grow their event fundraising income and, just as we were set to share our findings, COVID-19 landed. We hit pause as, at the time, it felt that data on 'real-world' events was no longer a priority for many charities.
But as the months have passed, we've re-visited that research several times and drawn upon our daily conversations with charities, and our experience helping them to create hundreds of virtual events throughout this year. Although it's been understandably daunting for some charities to quickly adapt to new digital skills and technology, it's reassuring to see that the research reveals that the pivot to virtual events is an evolution, not a revolution.
We recently partnered with our friends at massive to create the Virtual Fundraising Monitor, a new report that shares stats and stories from hundreds of charities who have launched virtual events in the last nine months. By combining the results of this new report with our existing research, we've been able to uncover some helpful insights about what exactly makes a virtual event successful and how much that differs from a real-world event.
If you'd like to read our Virtual Fundraising Monitor then you can download the full report here.
What are the foundations for event fundraising success?
Connection to the cause
Our research shows that when an event has a clear connection to the cause there is a 20% difference in income return – events raise more money when there is more focus on the cause. For example, the British Red Cross's Miles for Refugees is a virtual event that gives participants the option to walk, run or cycle from a choice of six distances, each one representing a different refugee's journey to safety in the UK. The event has increased its income from £27,000 in year one to an amazing £2 million in year four!
Diversification
There is a correlation between charities who experience income growth and charities who have more than one event in their portfolio and don't rely solely on third party events.
"Take this opportunity to create your own bespoke events to engage current supporters and acquire new ones to future proof yourself. "

Julie Roberts, More Strategic UK and Interim Head of Fundraising at Pancreatic Cancer UK
Know your audience
In developing any new event, or evolving an existing one, it's key to first understand your target audience, so you can create an event proposition that will appeal to them. Draw upon your phone calls with supporters, ask them questions about how they're thinking and feeling at the moment and do online surveys so you can get more responses and data to inform your decision-making. It's particularly important to do a regular pulse check with your supporters right now as their attitudes and behaviours will be shifting considerably in response to lockdown measures and COVID-19.
Community and connection
Our research shows that charities investing in more 1:1 communications channels, such as Twitter and Facebook, were seeing returns of 2-5%. When discussing this with my colleagues at JustGiving, one of the number one factors we see consistently contributing to the success of a virtual event is to create a way for participants to connect and support each other, such as Facebook Groups and or a Strava club.
Balance longer term planning with being agile
Our research shows that 21% of charities with event plans that look two to five years ahead are more likely to report stable or income growth than those with just one-year plans. This may be a bitter pill to swallow right now when the pressure is high to focus on events that deliver an instant income boost but carving out time to take a longer view of your events strategy will help ensure you're creating stable and growing revenue streams for the future. If you're able to balance this with an agile approach whereby you rapidly test new virtual events, not only will they potentially give you the immediate income boosts your organisation needs, but also give you insight into what works (and what doesn't) so you know where to invest longer term.
Insights you can apply to your 2021 events calendar
For some charities, the pivot to virtual events has been a natural transition of their existing digital fundraising programmes. For others, we know that it's been a big leap to make at a time when the stakes have never been higher, so it's reassuring to see that the Virtual Fundraising Monitor reveals that the bedrocks of event fundraising remain the same and we don't have to throw out the entire rule book just yet. However, there are emerging trends and differences shared in the report that will help all charities benchmark their virtual events performance as they continue to adapt their fundraising. These include:
What the most successful types of virtual events have in common
Which event formats were the most popular amongst charities
A breakdown of how much virtual events raise vs in-person events
The impact virtual events can have on your participation and income figures
Get inspiration in your inbox!
Don't miss out on digital fundraising tips, tools and trends.
Sally Falvey has worked in online fundraising for over 10 years, and is the Head of B2B Marketing at JustGiving. She's passionate about helping all charities use the latest technology to be more efficient and raise more money.