Tips to make a good fundraising event great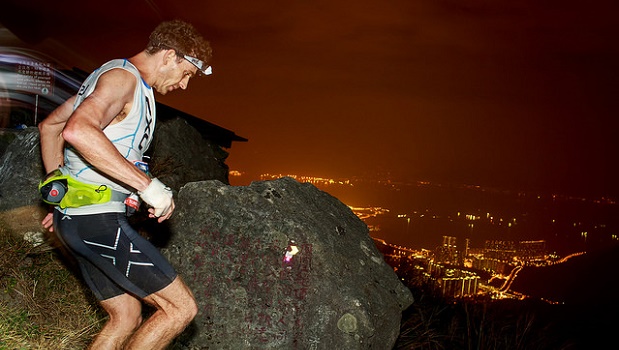 JustGiving's Nikki Kinloch takes a look at some key trends in event fundraising and how charities and commercial event organisers can work together to grow event participation and raise more money.
The event landscape
According to leading Event Management and Registration company Active Networks, over the last 5 years there have been two clear leaders when talking about fundraising in the sports events category;  running events and triathlon events.
However, more recently, new players on the block have emerged such as True Grit, Barclays Moontrekker and The Stampede. This category has been coined as MOB events and they are hyper-social, often team-based, with a focus on a fun atmosphere.
As well as the growth of obstacle courses and fun run events, we have also seen the growth of the Millennial participants who want to have a new experience or tick an item off their 'bucket list'. They want to raise money for charity, whilst having fun.
MOB and experiential events are on the rise on JustGiving with both categories of event increasing by over 200% on JustGiving in the past two years – and it doesn't look like they will be slowing down any time soon.
How do event participants fundraise online?
Understanding not only the type of event that fundraisers take part in but how they fundraise is equally important.
They use their mobile – so far in 2015 65% of traffic to JustGiving has come from people on a mobile or a tablet device, so make sure your event registration form, online fundraising and donation flows are all optimised for mobile. That way you'll be giving people the best experience possible, so you don't miss out on donations.
They share their fundraising – on average, a fundraiser will share their Fundraising Page on social media twice a month.
They drive donations from Facebook – 50% of donations on JustGiving came directly from Facebook referrals in March 2015.
What motivates people to fundraise?
In a survey of over 1,100 participants, we found that the main motivator for fundraising whilst doing an event was to support a particular charity that they cared for, for example the Australian Cancer Research Foundation. This was closely followed by supporting a particular person in their network, such as a relative or friend who has had treatment for cancer.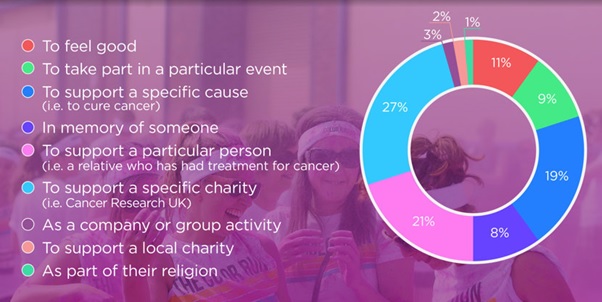 Make fundraising a priority
With the growth of the different types of fundraising events, both charities and commercial fundraisers should be making fundraising a priority at their events.
We know that there is a strong correlation between what someone does in your network from a fundraising perspective and what you will be inspired to do.
In fact, our research has shown that one in three fundraisers inspire their friends to start fundraising too, and that 62% of them take part in the same event as the original fundraiser. So fundraising leads to more fundraising, which results in more participants for your event.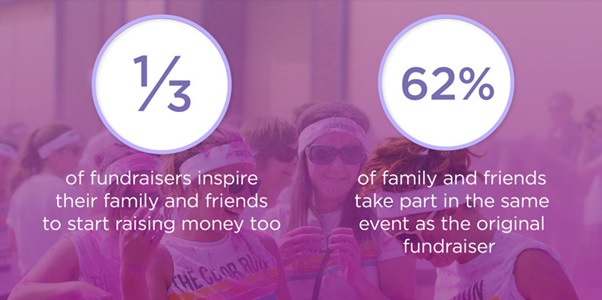 How charities and event organisers can work together
From a commercial event organiser's perspective there are three key areas where they feel working with a charity benefits them:
New audience – working with a charity increases the event reach above and beyond the traditional participants that would take part in such an event.
Brand exposure – as participants fundraise and people donate to their Fundraising Pages, the event's brand exposure also grows alongside that of the charity's.
Event day volunteers – many charities have a large supporter base of volunteers that are only too happy to help out at the event, making it easier for the event organiser from a management perspective.
On the other side, how does working with a commercial event organiser benefit a charity?
Saves time – commercial event organisers are usually experts at setting up and running events. This can take a lot of pressure off your charity to have to organise the activities, particularly if you're a smaller charity with limited resources.
Reach more people – having a lead beneficiary charity at an event, more often than not leads to an increase in supporters for that charity, as a new audience is made aware of the charity and what they do, above and beyond their usual supporters.
Raise more money – probably the most obvious benefit, partnering with an event will increase voluntary income for a charity.
How charities can make the most of working with event organisers
Set goals – set clear objectives about what you are looking to achieve from a partnership with an event organiser. Make sure your management team is all on-board and aligned with the goals.
Identify partners – having set your goals, research and identify event organisers that you believe you could work well with and who align with your values.
What can you deliver? – finally, understanding the resourcing and time needed to grow the partnership with the event organiser is very important. Be realistic and assign specific roles to key people with in your charity.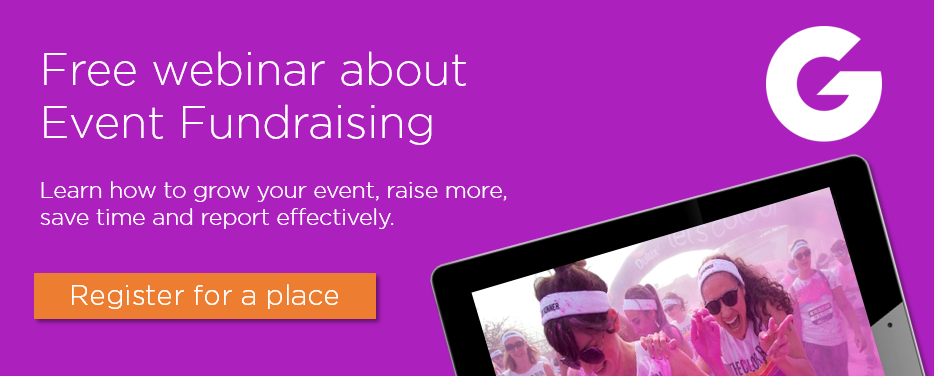 Get inspiration in your inbox!
Don't miss out on digital fundraising tips, tools and trends.
Nikki Kinloch is the Country Director for Australia, New Zealand and Hong Kong, bringing JustGiving to the Asia Pacific region. She's passionate about making fundraising easier for communities and companies by combining the power of social media and technology to allow for anyone to become a powerful advocate for the causes they care about.