Top PR tips for Marathon coverage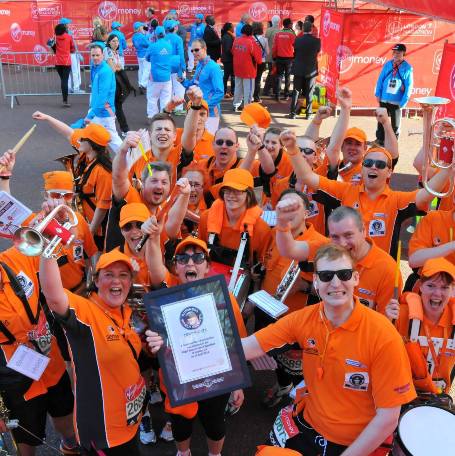 With the London Marathon fast approaching, we asked PR professionals and a journalist for their top tips to help you secure that all important coverage – whether it be on the television, radio or local or national newspapers.
1. Have a hook
By Helen Dagley, PR manager at JustGiving
Have you got any runners that are doing anything unusual, such as running backwards or singing the entire route? Why not apply for a Guinness World Record? The Huddersfield Marathon Band, who played the entire route last year, broke a record and ensured coverage not only for themselves but for their charity Sense. Journalists are always on the lookout for something unusual so use a hook to make sure you stand out. The band are pictured below with their Guinness World Record.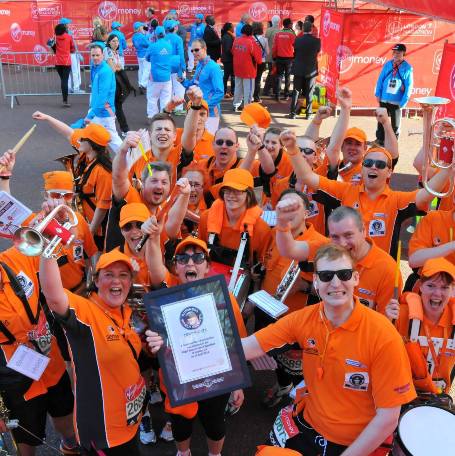 2. Think local
By Ben Matthews, director at Montfort
Local newspapers and radio are a great opportunity for charities to get coverage around the London Marathon. But for local media to cover your story, you have to make sure that the message is in fact local. Here are some questions that you may want to answer to come up with some news angles that will get the interest of journalist:
• Is there someone from the local area running the London Marathon for your charity?
• If so, do they have a unique reason why they're running?
• Are they doing more than just running, e.g. wearing an unusual costume?
• Can the journalist interview your case study?
• How can other local people get involved with your charity?
Make sure you get permission from the case study, as well as getting their name, age, location and a mobile number. You should also get a high-res photo of your case study that clearly shows their face, such as a family photo or portrait, which can be sent to the journalist.
Also have a read through of previous articles in the publications you want to be covered in, watch the local news, or listen to the local radio station to find out the kind of stories they like to cover, then add in similar angles to your messages. Make sure that you have a story of genuine interest – it's not enough just to be a local charity without any unique local angle.
3. Pitch a human interest angle
By Adrian Monti, freelance journalist for titles including Runner's World, Men's Running and Women's Running
More than 30,000 people run the London Marathon every year. Sadly, this means that just completing isn't considered to be amazing any more.
Back in the early 1980s when the event began, simply entering it would often secure local paper coverage because it was new. But today, every weekend thousands of people do marathons- or run even further – and so the wow factor has somewhat diminished.
But a compelling story can still secure positive coverage around marathon time.
If someone is running for your particular charity, still put them forward to the media if they have a strong story or their fundraising tale genuinely stands out. Many titles still like to acknowledge the marathon in some way, so ask yourself why can't your story be the one they use?
If someone has overcome the medical odds to be at the start line, that's a strong contender. If it's the parent of a child who is battling a rare illness or has even died, this is a story with a powerful emotional link which newspapers and magazines can make into an eye-catching headline.
In many ways a strong story can make running the marathon slightly incidental. It's the hook and maybe the pay-off to the story, but the story of the individual dealing with say, a serious illness, is the 'meat' of the piece. The marathon itself can be a timely excuse for telling or re-telling their story.
As ever, the journalist wants a story with a compelling narrative, relevant photos and access to the key people involved in the story. In my experience, most publications are happy to include details of the charity in the story and websites etc. in a 'boiler plate' at the end of the article too.
Some stories will be ideal as a 'stand alone' piece ( an individual's story) while others might make a good 'line up' themed one, for example '3 women who survived breast cancer to run the marathon.' Don't forget that a photo can make the story. For example, if someone is running the marathon to remember a parent who ran it before, and they have a photo of their parent crossing the finishing line, you could be on to a winner.
Why not ask your runners to do their own local PR? Download our PR toolkit and email it to your runners.
Related reads
Get inspiration in your inbox!
Don't miss out on digital fundraising tips, tools and trends.
Passionate about using digital channels to communicate with and for charities, Kirsty is a freelance digital communications specialist and accredited trainer. A regular blogger for Third Sector and other sector publications, she is always keen to share her experiences and knowledge with others and help them achieve their goals. She has helped hundreds of charity staff hone their social media and digital marketing skills over the years and understand the importance of good content. She is a trustee of the Small Charities Coalition and in 2016 won a CharityComms Inspiring Communicator Award.