Top tips to help fundraisers create the perfect page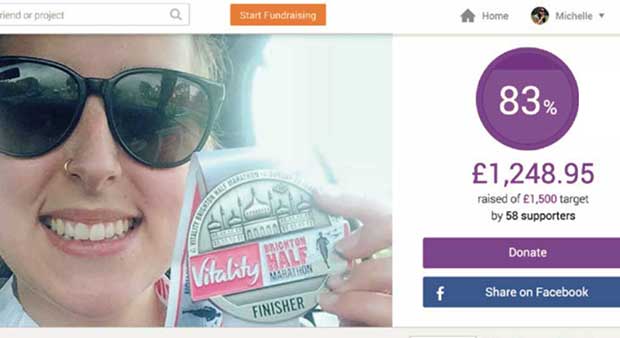 For many of your supporters asking their friends and family to help them support a cause they care about can be a daunting prospect. How can they best explain why they are raising money, as well as communicating the value and impact that your charity has on the community? We have created a guide to building the perfect page to help you give your fundraisers the support they need.
Here's an abridged version of what your supporters will find within our guide:
Telling your story, setting a target, and choosing a suitable image
The building blocks of a fundraising page are the fundraising summary, the story and the image that will sit front and centre on the page. All of these elements need to communicate who the fundraiser is, why they have chosen to raise money for your charity and connect their friends and family with the cause that they will be supporting with their money. The summary needs to be short and sweet and to the point, with the story enabling your fundraiser to elaborate on what they are doing and why. This is a great opportunity for them to explain exactly what your charity does and how you have an impact on the world, and encouraging them  to explain the work that you do in monetary terms (£20 enables one vaccine for a child, for example) can really connect their community to your cause.
"Writing a 

page summary can lead to 

a 

36%

 increase in page value.

"
Getting the page noticed
The guide also contains information about how the fundraiser can promote their page. Obviously social media is the first and foremost channel that people use to connect to their circle of friends, family, and colleagues, and JustGiving's page integrations make sharing across their preferred social media platform a breeze, whether it be Facebook, Twitter or WhatsApp. However, we also know that pages that get picked up by local press have a chance to reach an even wider audience, so we provide tips on how someone can identify their local media and get in touch with them about their page.
Some stats to help encourage your fundraisers
Setting a 

target donation amount can lead to

 a 

45%

 increase in page value.

Uploading a profile picture can result in

 a 

23%

 increase in page value.

Writing a page summary 

is correlated with a 

36%

 increase in page value.

Adding a 

photo

 can increase page value by 

2%

 per photo.

Adding a text update can result in 

an 

8%

 increase in page value per update.

Linking to a 

team

 is correlated with a

 4%

 increase in page value.

Linking to a 

company

 can increase a page value by 

11%

.
Share to your supporters
This guide has been created with your fundraisers in mind, so please share it with them. We want to help them reach as many people and raise as much money as possible to support your cause.
Get inspiration in your inbox!
Don't miss out on digital fundraising tips, tools and trends.