Crowdfunding campaigns that trump Baby Trump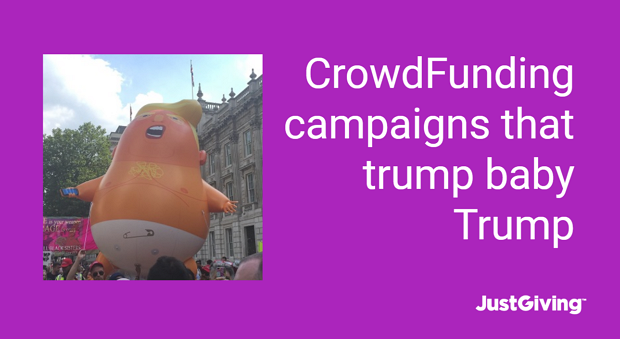 Last week we witnessed a historical event. For the first time ever, a gigantic balloon interpretation of an American president flew in London.
The entire campaign was crowdfunded and raised a staggering £31,000 in a month.
Crowdfunding isn't easy, but if you get it right, it's a great way of raising funds for specific projects. Here, we'll talk through the essential elements of some of the best executed crowdfunded campaigns.
Show what the goal looks like
Let's start with 'Trump Baby'. This campaign succeeded because the crowdfunders mocked up some visuals so the public could see exactly how their project would look if it was funded. The images went viral, and people reacted by funding the campaign. They smashed their original target in just a few hours.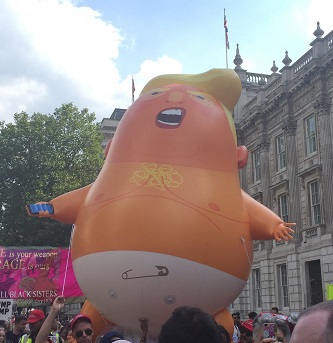 This crowdfunding campaign goes completely against the norm. It's not for charity, and it wasn't to start up a business venture. It was a political statement and it was meant to make people laugh.
What's more, if you can inject humour into your campaign in some way, you've got a much better chance of winning public support.
 A passionate and engaged audience
In 2017, vegan charity Viva! rescued a mother pig named Hope and her six piglets from slaughter and took them to a sanctuary. They thought that showcasing this story to as many people as possible might encourage people to switch to a plant-based diet, something the organisation promotes. They decided to screen the mother pig's story on cinema screens.
The campaign would cost £100,000, but Viva! managed to find a match donor, so they only needed to raise £50,000.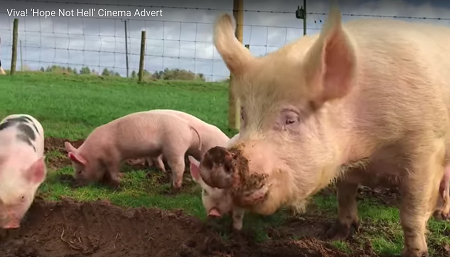 They created the advert they wanted to show and then they went out to vegan audiences in a big way, asking them to donate towards the costs of paying for the advertising space. They really utilised their social media following, as well as existing vegan groups,
They timed it just right, because the vegan movement and animal activism are growing lifestyle trends, and so there were plenty of people willing to donate, even when they hadn't heard of Viva! before.
When the campaign was over, they published the names of everyone who had 'Brought Hope To Millions". This is a great way of thanking your supporters for their donation.
Offer an incentive
This type of crowdfunding is typically used by startups, and many charities can utilise it too.
The United States Holocaust Museum wanted to make the diaries of Holocaust victims and survivors available to the public, but they need $250,000 dollars to catalogue and translate them.
They launched a crowdfunder, offering incentives to donate anything from $5 to $10,000, which involved meeting a Holocaust survivor personally as they handed over their artefact to the museum.
They raised $315,000.
Offering incentives is a great way to get people to donate to you, or to encourage people who are already supporters of yours to donate a little bit more than they normally might in order to receive whatever it is you're offering.
Show exactly what the donations will do
Comfort Cases give provisions to children being taken into foster care to try and help them with the transition. Their crowdfunding page asks for donations towards a fundraising goal of $200,000 so they can provide 40,000 cases to young people.
This crowdfunding runs alongside their other fundraising through their website and volunteers. The crowdfunding element adds an interesting dynamic to their fundraising because donors can see how much has been raised towards the target and how far they have left to go.
Motivating your donors in this way can raise thousands. What targets can you set for your next crowdfunding campaign?
Get inspiration in your inbox!
Don't miss out on digital fundraising tips, tools and trends.