Giving Varvara the tiger a new chance for a happier life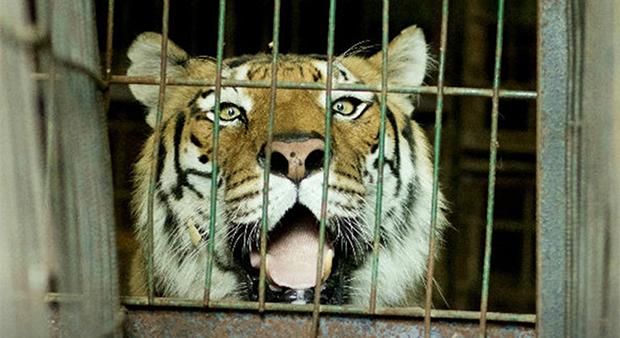 A large tiger, one of nature's most beautiful predators, locked in a tiny cage with no space to roam and no access to the outside world. This was the shocking reality of Varvara, a circus tiger in Bulgaria. Following a ban on the use of large mammals in circus performances, the owners of Varvara kept her enclosed in a cage on the back of a circus wagon. Due to the cramped environment the big cat was hardly able to move, and faced a very bleak future as her owner could not provide a suitable environment for an animal of her size.
The charity Four Paws dedicates itself to providing sustainable campaigns and projects to improve animal welfare around the world. When they learned of Varvara's plight they set about finding a way they could help.
Four Paws managed to negotiate the rescue of Varvara from her owner, and organised a place for her at their Tierart Big Cat Centre in Germany. For the first time in her life she would be able to roam outside and would see an existence that didn't involve performing tricks or being locked up in a tiny cage. With the costs associated with caring for a large animal such as a tiger being considerable, Four Paws chose to organise a Campaign on JustGiving in order to help raise funds for her rescue.
See Varvara's journey to her rescue centre, and her first steps in her new outdoor enclosure.
"https://www.youtube.com/watch?v=Xut2RuVldaU"
How they did it?
With their campaign Four Paws chose a tangible target that their supporters could easily relate to. They explained that it costs £20 a day to feed Varvara, and that they hoped to raise enough money to cover the costs of feeding her for an entire year, £7,300.
By effectively communicating their story, setting a tangible target and explaining how the money will effectively be used the Campaign managed to receive £7,477 worth of donations from 406 supporters. Smashing their intended target and guaranteeing that a Varvara's food would be funded for an entire year.
"Varvara, the last remaining circus tiger in Bulgaria, was rescued by FOUR PAWS in September 2015. To effectively mobilise support, we created a JustGiving campaign with a tangible target—£7,300, the cost of caring for Varvara for a year. Amazingly, we reached 75% of our target in less than three days and we went on to quickly smash our target altogether. Considered a huge success at FOUR PAWS, the Varvara campaign showcased the value of online fundraising within our organisation and across the board."
Saige Jennings, Digital Fundraising Manager, Four Paws
Find out more about Four Paws
Find out more about Campaigns on JustGiving
Get inspiration in your inbox!
Don't miss out on digital fundraising tips, tools and trends.