[Part 1] VIP treatment for your London marathon fundraisers

2018 London marathon runners on JustGiving raised a phenomenal £23.3 million in donations and Gift Aid on JustGiving. They also raised £1.9 million offline, taking the total to £25.2 million raised for good causes!
We saw 160,000 people visit the site and 138,000 donations processed, totalling £4.05 million on marathon weekend alone!
We're extremely proud that everyone who wanted to give was able to, and that we helped thousands of fundraisers raise more for your causes than any other year… and we're ready to top that in 2019.

In some ways we treated the 2018 London marathon like any other event on JustGiving, focusing on our three key levers of success; page creation, page activation, and page value. We did however give your fundraisers a bit of extra attention – it is the London marathon after all!
We know that giving behaviour and income from fundraising within endurance sport events is still growing. However, some events within the wider event fundraising market are seeing slower growth than in previous years. To help charities combat this trend, JustGiving are more dedicated than ever to giving your fundraisers the best experience and education to help them raise more.
Here's how we make your marathon fundraisers feel like VIPs and help them raise more for your cause.
Matching potential runners with your cause
Using our marathon clearing tool Vests of the Best, we offer an engaging way to talk to your potential fundraisers straight out the starting blocks. It's important that you share your Vest with your network but to help reach as many people as possible, we also promote Vests. Our data science team tell us who are the people most likely to fundraise for the marathon, so we reach out to them from the get go. This fun, interactive tool allows runners to apply for your charity places if you have them, and your personalised charity Vest can also be used to encourage ballot place holders to join your team.
In our page activation phase, Vests of the Best takes on a new role too. Rather than each charity having a digital Vest, every London marathon fundraiser using JustGiving gets their own! These are listed in leader-boards and they can share them on social media as a different way to ask for donations to their page.
Personalised fundraiser journey
The thought of hitting a high fundraising target can be daunting for your runners but we also know that supporting them can be time consuming too. That's why we give a lot of attention to personalisation and stewardship year-round for your fundraisers, and this year we're introducing even more stewardship for your London marathon fundraisers, including new ways for them to share their pages – keep an eye out!
JustGiving fundraisers receive 'nudges' from us to encourage them to create the 'perfect page', share their page, and go on to raise more money for your cause. To spur them on and congratulate them on their amazing achievement, each year we make bespoke London marathon themed content for them too. Some of our fundraisers' favourites have included Finish Line, Cheer Squad and last year's My Medal.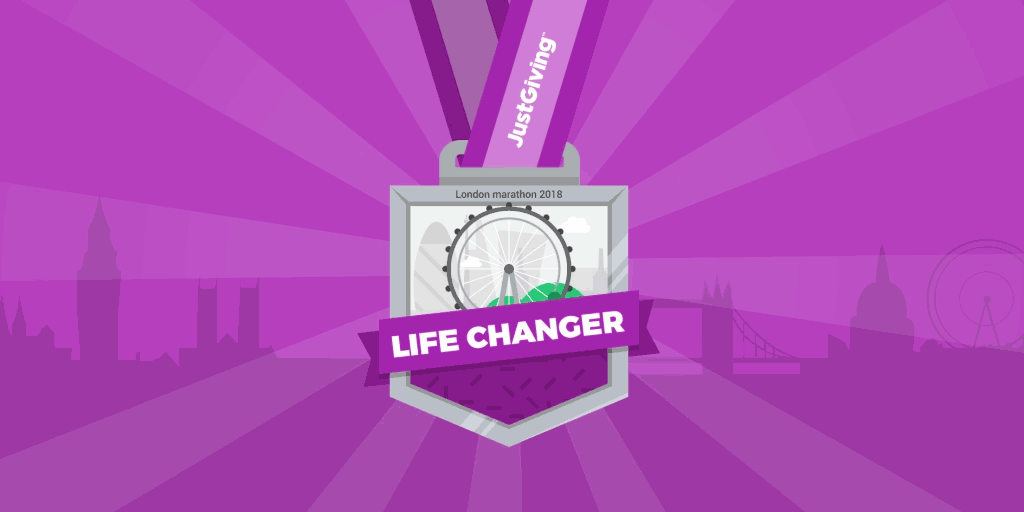 All London marathon runners look forward to receiving their medal at the end of the race, but because we know raising so much money for a good cause is also worth shouting about, we created My Medal to celebrate their fundraising achievements. Every marathon fundraiser using JustGiving had their own digital medal, that was 'made' before their eyes, pulling in aspects of their fundraising journey along the way – donation messages, amount raised, their charity's branding to name but a few. This year we're planning something equally great, keep your eyes peeled!
VIP treatment
We celebrate your runners by going the extra mile! They've signed up to a huge physical and mental challenge, dedicating months of training and committing to raising lots of money for your cause so we want to help you make them feel like the VIPs they are.
In preparation for the 2018 marathon, we teamed up with Runningwithus who have coached everyone from beginners to Olympians! We wanted to give JustGiving fundraisers direct access to the coaches and their vast training knowledge, which is why we created our Running For Good Facebook group which now has over 1,800 members!
The Runningwithus coaches answer questions and post training tips regularly and we also love running a flash giveaway in there! As well as the Running With Us team doing their thing, this year we've also partnered with Lucozade so we're excited to offer even more content and advice to your runners for 2019!
Get ready!
Now's the time to get your ducks in a row…
Accept or decline any runners that have applied for a place through Vests of the Best, they're waiting to hear from you!
Lost your runner application link? Get in touch with our Support Team via Live Chat or email charities@justgiving.com
Filled your places or don't have any to offer? Encourage ballot place holders to join your team and raise money for your cause, share your charity's Vest and ask ballot runners to hit the 'Start fundraising' button and get their page up and running!
Need help lining up those ducks? Here's some more info.
Get inspiration in your inbox!
Don't miss out on digital fundraising tips, tools and trends.
Phoebe is a Customer Success Manager at JustGiving, working with charities to help them make the most of JustGiving's tools and insights.