Virtual Reality (VR) was the hot new tech in 2015 and 2016. You just couldn't read a trends report without it featuring heavily.
2017 saw the hype fade a little, but with costs coming down and more charities experimenting with the technology, there's some great examples of how VR is helping to drive change. Here's five inspiring charities and NGOs using VR and 360-degree video.
1. VR in the trenches
The Royal British Legion are commemorating the 100th anniversary of the Battle of Passchendaele with a series of 360-degree videos putting the viewer into the front line of one of the most horrific battles of World War One.
They've delicately merged original photography with graphics and interviews with men who fought on the front line to create a powerful and emotional experience.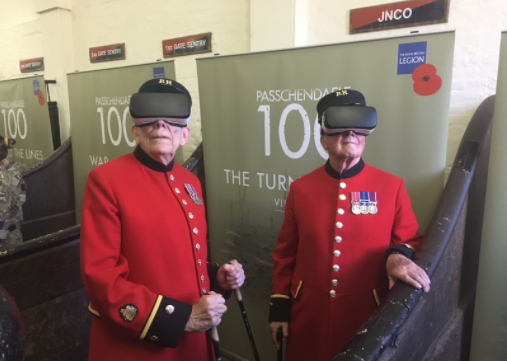 2. 

Barrel bombs in Syria

The same mixed-media approach has been used for another tragedy, but one that's unfolding today: raising awareness of the horrors of barrel bombs in Syria five years into the conflict, Amnesty International have created the immersive documentary "Fear of the Sky".

They gave a small team of Syrian activists technology and training to capture the impact on the city first-hand.

Amnesty are pushing strong calls to action to share and donate. Crucially, they're also using it to support their face to face fundraising, giving the people in the street a really visceral experience of why they are fundraising in the first place.

As well as a higher engagement rate and significant PR pickup, they've seen a 16% increase in membership signups through the project. Their training pack for fundraisers is also publicly viewable – that's great resource for people in other organisations planning their own VR/360 projects.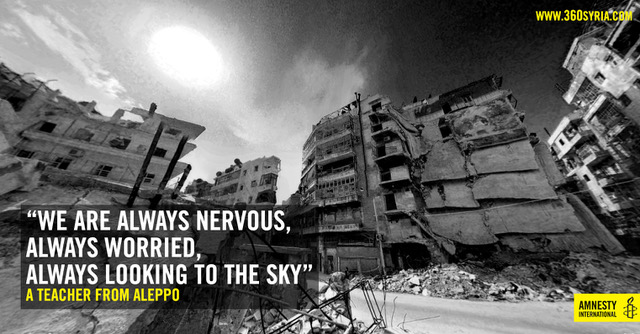 3. Seeing through another's eyes
Closer to home, Alzheimers Research UK have created A Walk Through Dementia – a Google Cardboard app (Android and iOS) that gives you the experience of everyday situations, seen through the eyes of people suffering dementia.
The viewer gets a first-hand experience of (and a new-found appreciation for) the common and the unexpected symptoms of dementia.
They also worked with their ambassador Jon Snow (the Channel 4 news one, not Westeros) to introduce the experience and provide the narration.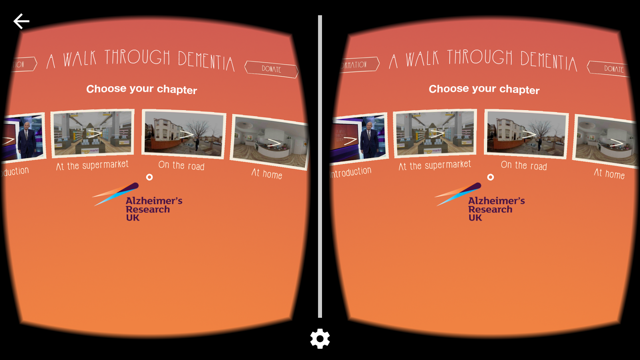 4. Behind the scenes of programme delivery
TOMS' four-minute Virtual Giving Trip film from 2015 is still worth checking out. It follows a team of their staff delivering the shoes from their One-For-One promise to a school in Peru.
My own personal wake-up moment came when a small boy waves to you, the viewer. Even though I knew I was standing in a shoe shop in Soho, I had a huge urge to wave back!
At the time, this was an expensive and ground-breaking approach from the director Chris Milk. But today, the technology is affordable for most charities – 360 cameras start at £200 and, as we saw from Amnesty, training staff and volunteers to use them during their work is a great way to get very authentic and powerful footage.
5. Using 360 to support social media activity
Not every piece of 360 content has to be viewed through a headset – this advert from the National Trust used a still 360 photo overlaid with the details of a job to create an exploratory experience, supported with smart boosting to reach an audience likely to be interested in the role.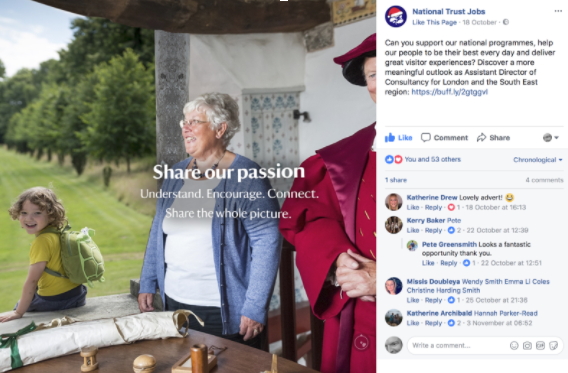 Its trick is that 360 photos on mobile look just like any other image until you move your device and see the view follow your movement – like a Harry Potter window into a parallel world.
Have you seen any other great ones, or want to find out top tips for your own projects? Join the VR For Good Facebook group!
Get inspiration in your inbox!
Don't miss out on digital fundraising tips, tools and trends.