What can we learn from #nomakeupselfie?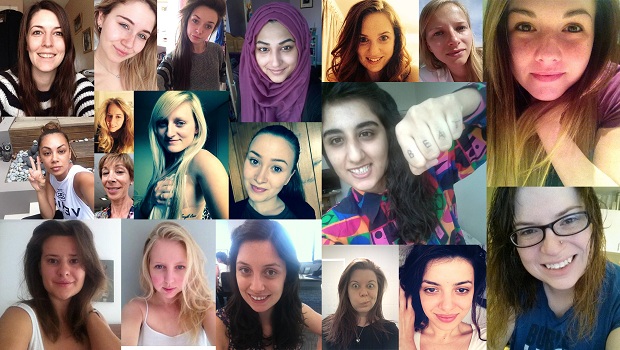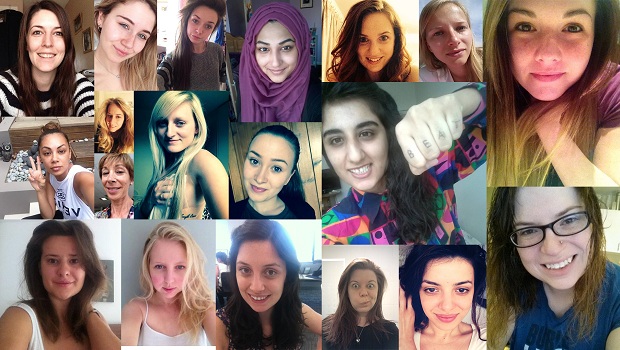 #nomakeupselfie – whether you love it or hate it, this home-grown internet craze has seen thousands of people getting involved.
The concept is beautifully simple. Take a photo (aka a 'selfie') of yourself wearing no make-up, post it on Facebook and Twitter with a message telling people why you're doing it (in this case, to raise awareness of cancer), and then ask them to do it too.
The trend has been labelled 'slacktivism at its finest', suggesting the campaign has been all talk and no action. Do campaigns like this reduce a person's likelihood to give? Does the act of posting a #nomakeupselfie in and of itself make them feel like they've done their bit?
On the surface it might appear that's the case, but our data suggests the contrary. We've seen an exponential rise in giving as a result of the campaign, to a wide range of causes from all over the world. Even charities in Australia are now benefiting from the #nomakeupselfie effect.
Watch our video to discover the impact of  #nomakeupselfie.
[youtube id="r-AatIixMB4″ align="center"]
So what can your charity learn from the campaign? We've put together six essential tips for what to do when a campaign goes viral.
1. React quickly
Viral campaigns like #nomakeupselfie don't have a long shelf life, so if you're going to take part, do it quick. And by quick, I mean 'within-a-few-hours-quick', otherwise the moment will have passed.
Do your digital and marketing teams have the freedom to jump on something like this without having to get sign-off from several senior managers? If not, start talking to people at your organisation to figure out a way of making it happen.
2. Watch and listen
One of the biggest criticisms of #nomakeupselfie was that it lacked a giving CTA (call to action). Smart charities picked up on this sentiment and when it was appropriate, highlighted easy ways for people to give. So what started as a playful awareness campaign, quickly turned in to a way of driving donations – when the time was right.
Here's the first tweet from Cancer Research UK that introduced a new CTA into the conversation. Its humble tone struck just the right note and gave people several ways to show they care.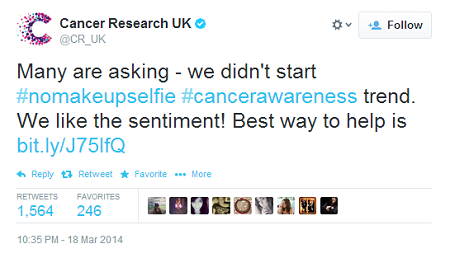 3. Be prepared for the groundswell
At the campaign's peak, JustGiving.com saw traffic increase by over 50%. We've made sure our platform is built to cope with sudden increases in people wanting to give, so you don't miss out on any donations.

"The response to the #nomakeupselfie campaign was phenomenal, and it was really reassuring to know JustGiving could support us with the sudden surge in traffic and donations." Justine O'Donnell, supporter services manager at Irish Cancer Society
4. Create a social giving loop
When people donate on JustGiving, we make it really easy for them to share that action on social media. As a result, an extra £30,000 was given to charities during this campaign, purely from people clicking JustGiving's share buttons.
#nomakeupselfie played itself out entirely on social media, so make sure you're making it easy for people to share the fact they're giving to and fundraising for your cause.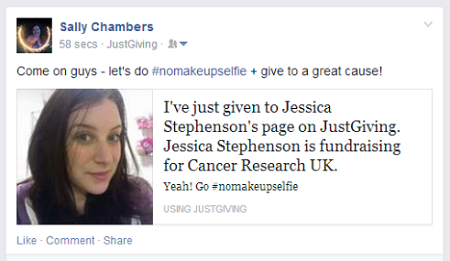 5. Share stories
Acknowledge and celebrate people taking part. This is your chance for your charity to have a personality. People connect with people, so make them feel special and it will create a deeper connection with your cause.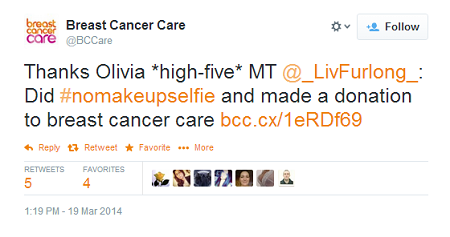 6. Think about what comes next
Now you've got all these new people liking, following and engaging with your cause, think about how you can take them on a journey with your charity. This could be the start of a lifelong relationship, so it's worth thinking about how you can nudge these new supporters to build a deeper engagement over time. Today it's a selfie, but in a few months, they could be doing their first fundraising event for your charity.
"We can't thank enough the millions of people who donated. We know many of these people are new supporters and we want to ensure they have the best brand journey possible. As this was a social media campaign at its heart, it makes the most sense to us to continue the relationship online. Alongside the donations, we've also gained hundreds of thousands of new fans and followers on our social channels. We're using these channels to thank people for getting involved and to explain where the money they raised will go. Thanks to their donations, we're able to fund 10 clinical trials that last week we didn't have enough money to fully support. This will help us get treatments to patients faster and help save lives.
"We'll continue to show our new supporters what they've achieved and how they can get involved in other ways. From signing up to events like Race for Life or Dryathlon, carrying out their own fundraising or volunteering in our shops, their support will help us beat cancer sooner."
Aaron Eccles, head of social media at Cancer Research UK
Get inspiration in your inbox!
Don't miss out on digital fundraising tips, tools and trends.
Sally Falvey has worked in online fundraising for over 10 years, and is the Head of B2B Marketing at JustGiving. She's passionate about helping all charities use the latest technology to be more efficient and raise more money.