What's the secret to cause marketing success in the US?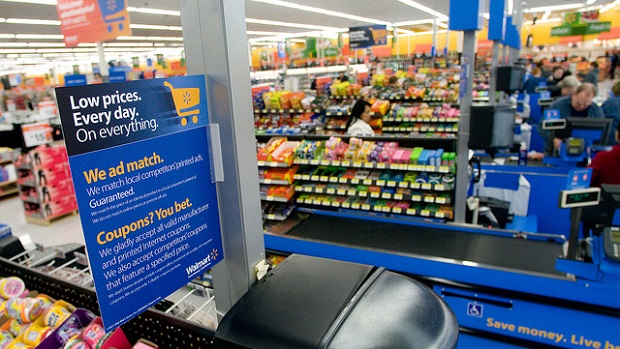 "The opportunity to write for the JustGiving blog coincided with another invitation: to speak on global cause marketing at the annual Cause Marketing Forum Conference in Chicago. I had one problem." says Joe Waters who writes the web's leading cause marketing blog Selfishgiving.com.
My knowledge of cause marketing outside the United States was like my passport: missing in action.
In desperate need of help for my presentation, I pleaded for foreign aid!
Conference attendees from Japan, Australia and Brazil came to my rescue. All three co-presenters confirmed that cause marketing was growing in their respective countries. But one thing was missing: the lucrative charity checkout programs so common here in the United States.
I'm sure charity checkout programs are more popular in the UK than in most countries. But I also bet there is plenty of room for growth.
Why charity checkout fundraisers are so important
Charity checkout programs raise money from customers at the cash register. These programs include charity pinups, register programs, donation boxes, round-ups and purchase-triggered donations. Sometimes these fundraisers are called point-of-sale (POS) programs.
Charity checkout programs are successful and lucrative because they are driven by consumer donations. Conversely, contributions from the company checkbook make up a very small piece of the fundraising pie. On average, companies here in the U. S. donate less than one percent of their pre-tax profits to charities. However, the top 77 charity checkout programs here in the states raised nearly $400 million in 2014 alone.
Of course, there are many other cause marketing fundraisers – and the field is changing because of mobile devices, technology and social networks. But for now, charity checkout programs are the best way for businesses that sell directly to consumers to raise money for good causes.
Three Standout Charity Checkout Fundraisers
1. Denny's and No Kid Hungry
Since 2011, Denny's – which boasts 1,600 diners in North America – has sold charity pinups in support of Share Our Strength's No Kid Hungry's efforts to help the more than 16 million American children struggling with hunger.
For a $3 donation, guests received $9 worth of coupons redeemable at participating Denny's restaurants.
Since inception, Denny's annual campaign has raised $2.3 million for No Kid Hungry.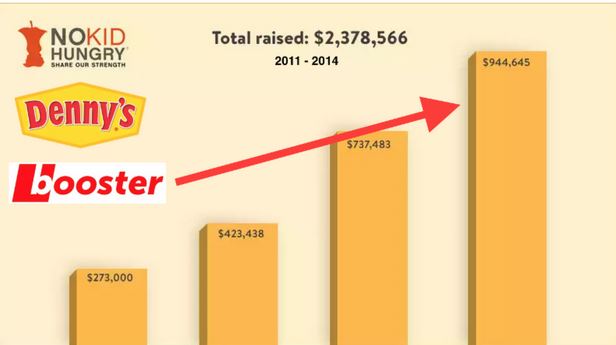 Why this program is a standout fundraiser:
Donations to the program have tripled since 2011.
Denny's has adopted several best practices, including incentives that reward customers for their support.
Denny's is committed to Innovation. In partnership with the social fundraising platform Booster, Denny's launched a T-shirt design contest for employees. Employees submitted 100 designs! Denny's sold the top three designs online and hundreds of franchises ordered T-shirts. Employees wore them as uniforms to show their support for No Kid Hungry, boosting the success of the program to new heights.
To see more examples of charity pinup programs, visit this Pinterest board.
2. McDonald's and Ronald McDonald House
Donation boxes are often ridiculed as old-fashioned and low-tech. But deployed in the right business they are magnets for money! A best-in-class example is the coin collection program at McDonald's.
Last year, McDonald's customers dropped quarters, dimes, nickels and pennies – and the occasional dollar – into boxes and donated $27 million! But that's just a drop in the bucket. Since 1992, customers have donated $281 million to the Ronald Mcdonald House Charities.
Why this program is a standout fundraiser:
You'll find donation boxes at all of McDonald's 13,000+ locations.
To make sure the donation box program gets the attention it deserves, McDonald's outsources the program to a third-party.
McDonald's is committed to regularly refreshing old boxes and centralizing the process of creating and distributing new graphic elements to franchise locations.
To see more examples of donation box programs, visit this Pinterest board.
3. Wendy's and Dave Thomas Foundation for Adoption
Charity checkout programs are popular holiday fundraisers here in the states. A great example is Wendy's annual Father's Day Frosty Weekend promotion.
Throughout Father's Day weekend, Wendy's restaurants donate 50 cents from the sale of every Frosty product to support the Dave Thomas Foundation for Adoption (DTFA), a nonprofit that works to help find permanent, loving families for the more than 134,000 children in North America waiting in foster care to be adopted.
Over the past nine years, Wendy's has raised nearly $15 million for DTFA.
Why this program is a standout fundraiser:
Wendy's support for DTFA is personal. Wendy's founder, Dave Thomas, was adopted.
Reflecting its shift to a more purpose-driven business, Wendy's has featured DTFA in its national TV and radio advertising. They've even created a multi-media adoption hub at com.
Father's Day Frosty Weekend is just one of four in-restaurant fundraisers Wendy's hosts each year.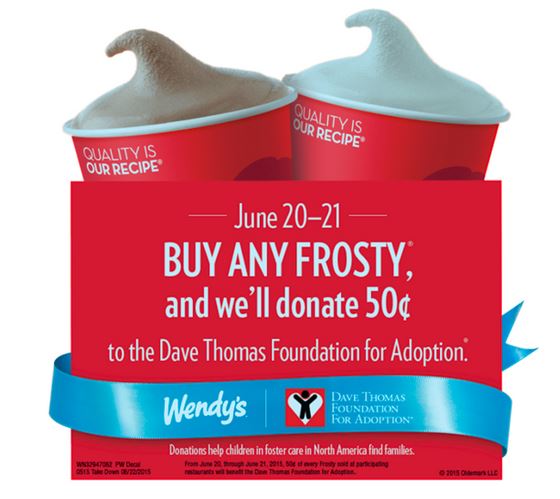 To see more examples of purchase-triggered donation programs, visit this Pinterest board.
The nonprofits and businesses I work with often ask me if there are other good cause marketing fundraisers. "Of course," I reply. "There are many. But if by good you mean lucrative there is only one: POS." And Denny's, McDonald's and Wendy's run three of the best.
Would you like to write for our award-winning blog? Pitch us your idea.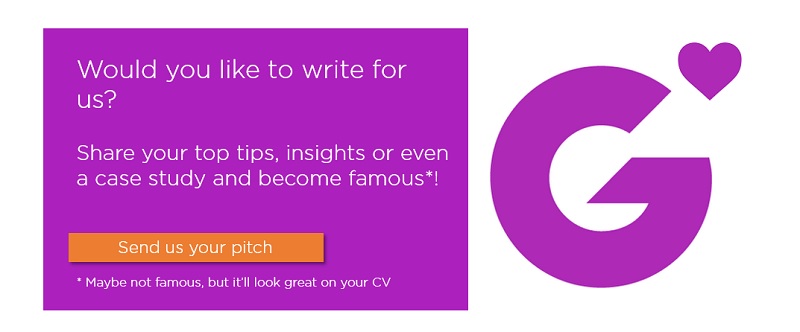 Get inspiration in your inbox!
Don't miss out on digital fundraising tips, tools and trends.
Joe Waters writes the web's leading cause marketing blog Selfishgiving.com and is a published author. He also co-hosts the Cause Talk Radio show.