Where to find local charity meetups and networking events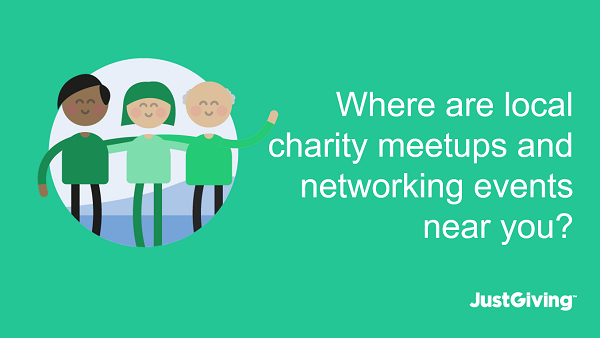 Do you want to connect with other charity workers and volunteers in your local area? There are lots of meetup and networking groups happening across the UK and we've shared a few below to help you get started in finding the one that's right for you. The listings are either part of a reoccurring series or organised by societies that regularly host other similar meetups.
So scroll to your region and start socialising!
London and South East
IoF South East and London – First Thursday
For those wanting to network with London fundraisers in a relaxed, informal setting, then First Thursday is definitely worth a visit! It's run by the IoF South East and London regional group from 6.00pm to 9:00pm on the first Thursday of every month. Follow the hashtag #iofthursday for regular updates.
A fun social event designed to facilitate charities and companies finding partners for potential collaborations, as well as sharing open solutions and ideas to create value in the digital space.
A meetup group that hails itself as the go-to event for professionals working in non-profits, professional membership associations, and charities. They encourage people to make new friends and build partnerships for projects, job opportunities and mentoring.
Charity Champions is a group for anyone interested in, working for or volunteers at a charitable organisation in London. Although each meetup is different, the group aims to hold discussions, lectures, socials, and networking.
Volunteer Co-ordinator's Network Lunch
A confidential space for those to discuss inter-generational volunteering, valuing volunteers and daily challenges.
South West
A half-day networking event for social enterprises, charities, co-ops, and community businesses. The next day event will include talks on raising finance and community banking.
A free quarterly event for those interested in using digital technologies for social good. The meetup combines expert workshop sessions with show and tell, plus there are opportunities to tell people about your own ideas and projects.
Volunteer Managers Network Meetings
A regular networking meetup run by charity Southern Brooks. The meetups are a chance for managers and volunteer coordinators to share ideas and successes whilst also discussing any challenges they face in their role.
Midlands
A networking event for female leaders working in the third sector. The event provides an opportunity to meet and connect with female peers, as well as discuss your own personal experiences and challenges.
Institute of Fundraising West Midlands Worcestershire Fundraisers Meet Up
Open to all fundraisers, the meetup will have a guest speaker share their fundraising top tips and provide an opportunity for attendees to also share their own insights.
Yorkshire and the Humber
Leeds Charity Social with IoF Yorkshire
These evening socials are held regularly to build up a community that can share tips and advice with one another. Their next event will also hear from two expert speakers.
A quarterly meeting that's free for staff and volunteers who are responsible for recruiting and managing volunteers within their charitable organisation.
Open to any voluntary or community organisation that delivers services within Ripon, the network focuses on opportunities to increase awareness of the role and value of the local voluntary sector and to promote volunteering.
North West
This paid-for event provides a line up of speakers and workshops that will focus on social media and bid writing, there will also be several networking breaks throughout the day.
Shaking up your funding & income generation cocktail
This after-work event is designed to teach the different routes to income generation and fundraising strategies for charities and social enterprises. The event will also have women change makers fundraising in a mini marketplace.
North East
#InspireGood September gathering
A regular gathering which aims to raise awareness of the great work local charities are doing in collaboration with businesses. Each meetup highlights a specific collaboration followed by training and networking.
Introduction to Innovation for the VCSE sector: North Tyneside
A free introductory half-day workshop that will be led by innovation expert who will discuss how to embrace innovation and make your organisation more efficient.
East of England
Open to all fundraisers in the Cambridge area, the theme of this meetup is Bring a Fundraising Friend. There will be a short discussion on donor journeys and stewardship followed by lots of socialising with fellow fundraisers.
Coffee and catch up for those that work with or within the third sector.
Scotland
Bridging the Nonprofit/Tech Communication Gap
Digital for Good meetups exist to bring digital professionals and non-profits into a space where they can discuss the challenges and opportunities together and have a great time doing it.
Charity Comms Scotland Networking Group
This networking group is for communications professionals working in Scotland-based charities. They meet three times a year, with each meeting focusing on a new topic that delegates will be asked to discuss.
Ireland
Meet, Share and Learn – Networking Event
This networking and information session for non-profits in Tipperary and surrounding counties is an opportunity to share the great work that is happening in communities and to learn about the support available.
This meetup is designed to connect data scientists with charities, NGOs and social sector leaders to help them realise the value of their data and how to use it effectively.
Wales
Charity Retail Association Network Meeting: Wales
The CRA represents charity shops and their networking meetings hear from their charity members, shining a spotlight on some of the innovative and creative things they are doing.
Institute of Fundraising Cymru Raise & Shine Breakfast Networking Events
Rise and Shine are interactive breakfast events hosted by IoF Cymru. They aim to provide a unique forum for open debate and an opportunity for charity workers to connect and support one another.
Do you know of other local meetups and networking events that are happening in your region?
List them in the comments below for other charities to discover and try!
Get inspiration in your inbox!
Don't miss out on digital fundraising tips, tools and trends.
Toni Gregory is a Content Marketing Specialist and B2B copywriter.