Why you should get involved in Small Charity Week 2016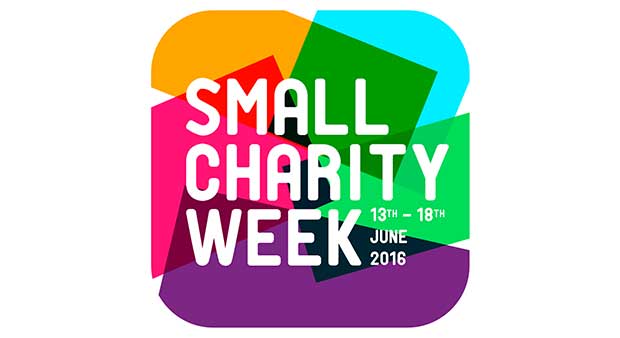 2016 will see the seventh year of Small Charity Week, a week that has quickly become a major feature of the UK charity calendar.
We support small charities because nearly one in five see possible closure as likely*, yet the demand for the services provided by small charities has never been greater, increasing 58% 2014-2015**.
Small Charity Week hopes to provide support that will enable struggling small charities to remain open and thrive. Whether it be raising awareness, improving knowledge, engaging with policy makers or gaining new fundraising skills; the week has something for everyone.
13th June 2016: I ♥ Small Charities Day
I ♥ Small Charities Day is a day to raise awareness of the constant hard work by small charities across the UK. We are running a Thunderclap and three competitions on Twitter, Facebook and Instagram. More details can be seen here.
14th June 2016: Big Advice Day
Expert advice is not always easy to come by when resources are stretched and this can be a particular problem for small charities. Big Advice Day will see a national London event and various regional events where small charities can access expert 1:1 advice on a variety of topics. For more information click here
Small charities are at the centre of Civil Society and it is important therefore that the voices of small charities are heard.
To mark Policy Day 2016, a policy reception will be held in Admiralty House, Westminster. It will be an opportunity for small charities to meet policymakers, MP's, officials and other small charities to talk about key small charity sector issues. All the information on the day is available here
16th June 2016: Fundraising Day
Fundraising Day is action packed this year to help small charities engage with current and new supporters. Kicking off the activities is the Fundraising Conference offering small charities the opportunity to learn from experts at an all-day event in London.
Next up is the #GiveMe5 campaign, where Local Giving and the FSI have pledged to double 1,000 x £5 online donations made on Fundraising Day as well as offering a free membership to small charities who attend any FSI training events.
eBay for Charity and the PayPal Giving Fund are offering small charities the chance appear to eBay users at checkout asking them to donate, as well as the chance to auction off prizes in the Small Charity eBay Auction which has up to £2,000 matched funding available.
17th June 2016: Volunteering Day
Many volunteers miss the opportunity to support small charities simply because they are not aware that they are needed. Volunteering Day aims to bring volunteers and small charities together by providing a platform for both parties to meet and share ideas.
This year, small charities are invited to attend a Speed-matching Event with Media Trust, a Trustee Networking Event with the I Am Group and an Advisory Panel with Reach Volunteering.
18th June 2016: Celebration Day
Small Charity Week closes with a day to celebrate small charities everywhere. Celebration Day is a great big thank you to small charities for all the effort they put in to make the world a better place. Find out more about planning a celebration day here.
* FSI, 2015, Quarterly Report 'Taking the Pulse of the Small Charity Sector'
** FSI, 2015, Small Charities Index November – September 2014
Get inspiration in your inbox!
Don't miss out on digital fundraising tips, tools and trends.